Repeat reel! Happy Ending lacks novelty and freshness.
Movie Name: Happy Ending
Cast: Saif Ali Khan, Ileana D'Cruz, Kalki Koechlin, Ranvir Shorey
Director: Raj Nidimoru and Krishna DK
Genre: Comedy/ Romance
Release Date: November 21, 2014
Run Time: 135 minutes
Bollywood Garam Rating: 3/5 stars.
Originality and unpredictability are an unlikely couple in Bollywood, even more so for Happy Ending.
This is what are the main ingredients in the film; A wealthy writer – Saif Ali Khan plays Yudi – who frolics in life until his writer's block gets the best of him and he is broke, the typical girl next door (Ileana D'Cruz as Aanchal Reddy) who is in a platonic relationship with this writer, a Bollywood star (Govinda as Armaan) who's hay days are behind him, but is trying to salvage his career in Hollywood, and other supporting characters like Kalki Koechlin who plays Saif's clingy girlfriend and Ravir Shorey who is Yudi's best friend. Preity Zinta and Kareena both have cameos and not to forget, Saif's cringe-worthy alter ego!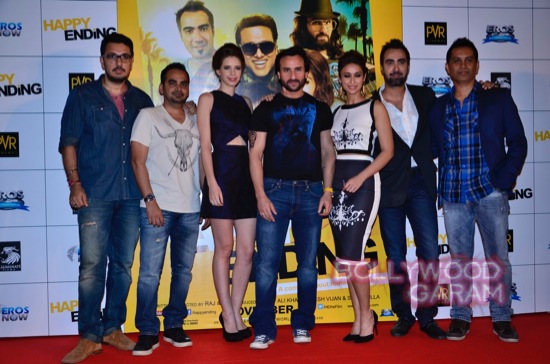 Saif is the typical Bollywood hero, rich, good-looking and happy-go-lucky, until he realises that his wealth can sustain him no more, well, considering that he hasn't written a book in five years, that is quite a possibility!
Then comes in the feminine inspiration, Ileana, a newbie writer who makes a good living out of writing schmaltzy romance, we don't need to explain the love angle between the two, do we? Saif and Ileana's chemistry is nowhere close to sizzling, it actually borders on the frozen!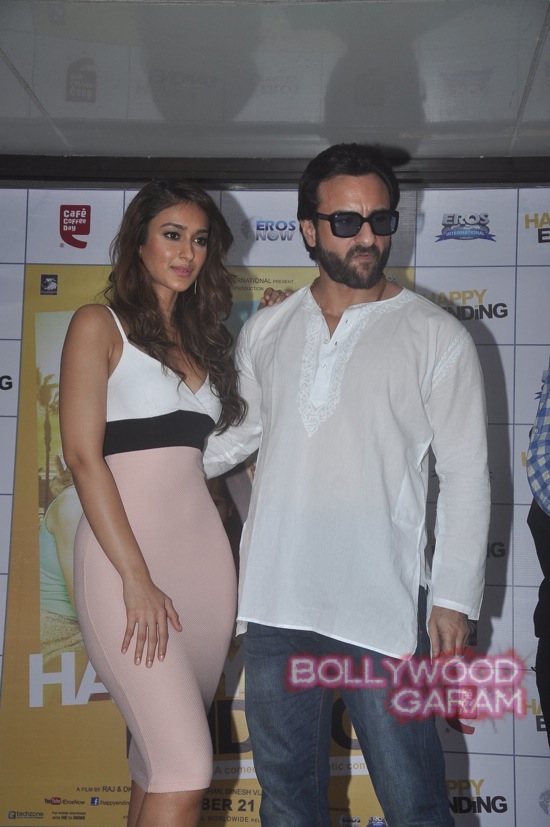 The only workable part in the film is Govinda, who comes into the picture when Saif has to salvage both his and Govinda's career by writing a good script – which will help Govinda win over the "multiplex audience". Even though he hasn't been around for a long time now, the 'Hero No.1′ star still has his comic mojo intact.
Predictability takes over in the first half of the film and the audience can do nothing but wait for the film to "END".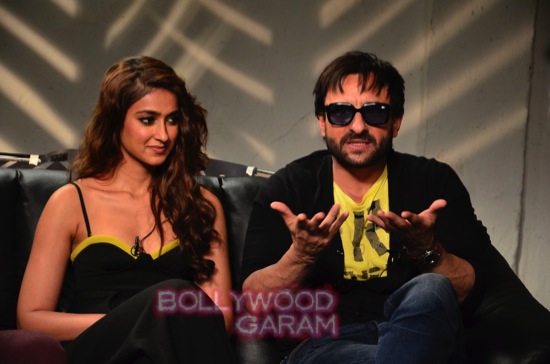 Preity and Kareena do decent jobs of their Cameos, and so does Kalki, though her role gives us a "have-seen-that-earlier" kind of a feeling. The most enjoyable moments in the film – which are rare – are between Ranvir and Saif, their cheeky banter is fresh and not boring like the rest of the film.
Though it has all the right components, snazzy locations, typical modern day Bollywood stylization, which includes no poverty at all, the film lacks in so many aspects. Not only does it leave you with a sense of ennui, but also makes you question Bollywood and its capability for fresh cinema.