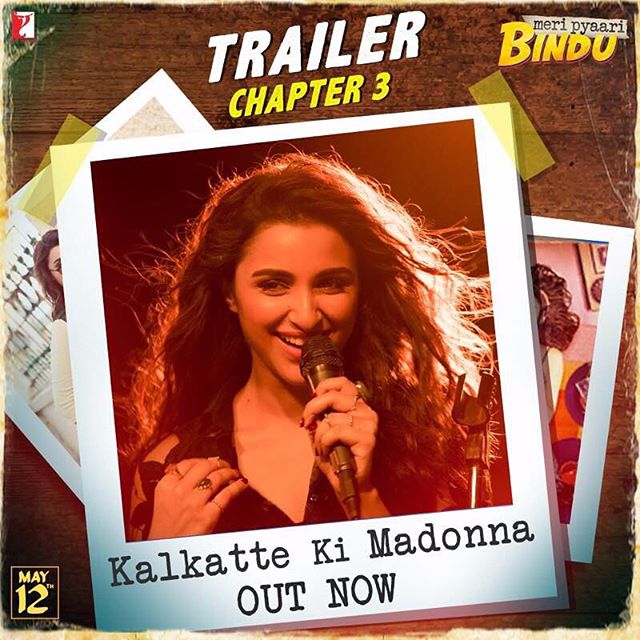 Meri Pyaari Bindu Trailer Chapter 3 – Kalkatte Ki Madonna shows how Abhimanyu gets trapped in Bindu's singing ambitions
The much awaited Chapter 3 of Ayushmann Khurrana and Parineeti Chopra's upcoming film, Meri Pyaari Bindu has finally been released by it's makers!
Directed by Akshay Roy and produced under the banner of YRF and Maneesh Chopra, the makers decided to release it's complete movie trailer in five parts over five consecutive days.
Chapter 1 of the trailer, Samosa Aur Chutney was released on Monday, April 3, 2017. While Chapter 2 of the trailer, Gabbar Aur Samba was released yesterday, April 4, 2017. The first trailer does not show lead actors Ayushmann and Parineeti at all infact! Instead, it shows junior actors playing the role of kiddie Abhi and Bindu and how Abhi is head over heels pint sized Bindu. Chapter 2 – Gabbar aur Samba progresses into their college days and show some jawani ka josh. It shows how Bindu is a free spirited girl and can get studious Abhi to do whatever she wants.
Moving on Chapter 3 – Kalkatte Ki Madonna, it's interesting to see how an ambitious Bindu gets Abhi into a soup. Inspired by Lata Mangeshkar, Bindu wants to be a Bollywood singer but she feels that her ordinary name is a hindrance. Bindu trains hard to become a singer while Abhimayu arranges locations for her to practice.
The funny part of the trailer is that Ayushmann Khurrana, who is an established singer, is shown as a bad singer and gets scoffed at by Parineeti for the same! Just like the other two trailers, this one too has an iconic song playing in the background, Disco' 82 and even has Parineeti practicing Zara Sa Choom Loon Main, from Dilwale Dulhania Le Jayenge.
Watch Meri Pyaari Bindu Trailer Chapter 3 – Kalkatte Ki Madonna right here –
Meri Pyaari Bindu releases on May 12, 2017. Stay tuned to catch Chapter 4 of it's official movie trailer exclusively on Bollywood Garam.
Featured image credits – Ayushmann Khurrana official Instagram account