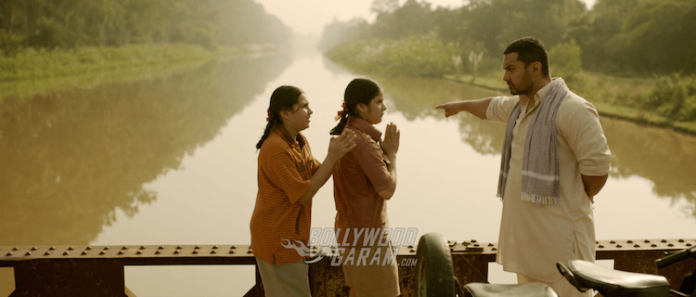 Pakistan censor board demands to cut two scenes with the Indian National Anthem and Indian National Flag from Dangal before release
Superstar Aamir Khan's Dangal proved to be a blockbuster after it released on December 23, 2016. Not only was the audience impresses but even critics went gaga over the execution of the film. The Indian audience has seen and appreciated Dangal, but unfortunately the people of Pakistan will not be able to watch it. The Pakistan Censor board has come up with a demand and has asked to emit the Indian National Anthem from the movie before it is released in the neighboring country.
The board has asked the scene with the Indian National flag and the National Anthem to be cut. Being the nationalist that he is, Aamir Khan has opted not to release the movie in Pakistan without the two scenes. The head of Pakistan Central Board of Film Censors, Mobashir Hasan said, "Yes, the board unanimously decided to skip two scenes."
It is now up to the local distributor, Geo Films who will decide if Dangal has to be released in Pakistan or not. Aamir, who is seen playing the lead role of Mahavir Phogat, has gotten apprehensive about the release of the movie in Pakistan. The spokesperson of the Ghulam actor said that the demanded cuts were important for the spirit of the flick.
Dangal is the story about the real life wrestler Mahavir Phogat, who struggles to train his daughters Geeta and Babita in the male dominated sport of wrestling. The movie was helmed by Nitesh Tiwari and jointly produced by Aamir Khan, Kiran Rao and Siddharth Roy Kapur. Dangal proved to be one of the biggest blockbusters in Bollywood and collected a massive Rs. 385 crores at the box office. If the flick does not release in Pakistan it is likely to cause an economic loss of Rs. 10-12 crores, as the country is also an important region for business.
Photo Credits: Aamir Khan productions