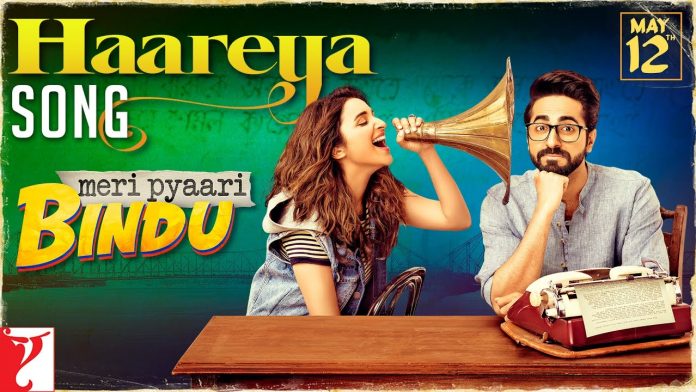 The second song from Meri Pyaari Bindu, Haareya is an unplugged song which will instantly uplift your mood
…While it's not a productional masterpiece or exceptional, it's a warm song with it's own acoustic charm and could very well make it to the top of music charts in no time!
The song depicts Abhi's fascination for Bindu and shows how young Abhimanyu is head over heels for his neighbor and childhood friend. Since Ayushmann Khurrana plays the role of a pulp fiction writer, the song is set in his work place and one can see books like Awara Dhoban and Guitarophibia strewn around, along with posters and music CDs. The song has a catchy tune making it easy on the ears.
Talking about the song to leading daily DNA, Ayushmann Khurrana says, "There are several photos of Bindu and props from the past as they remind him of his love. Since he is a writer, he weaves all his female characters around her, every girl resembles her! That's how besotted he is with her."
Makers of the movie released the first song from Meri Pyaari Bindu on March 28. Sung by lead actor Parineeti, the song, Maana Ki Hum Yaar Nahin marks her Bollywood singing debut. Surprisingly, Ayushmann Khurrana who is an established singer will not be singing any songs for this film and infact plays the role of someone who's a bad singer!
Talking about the role of a writer who's a bad singer, Ayushmann says, "I had to unlearn singing to play the character in the film. Since I am playing a writer who does not know how to sing, I actually had to act that up."
Moving back to Haareya, while the song features as a background score in the movie, there will be no lip syncing in it. Hence, makers of the film have released a separate video for the song.
Watch the entire music video of Haareya from Meri Pyaari Bindu right here –
Meri Pyaari Bindu releases on May 12, 2017. Stay tuned for more updates on the Parineeti and Ayushmann starrer exclusively on Bollywood Garam.