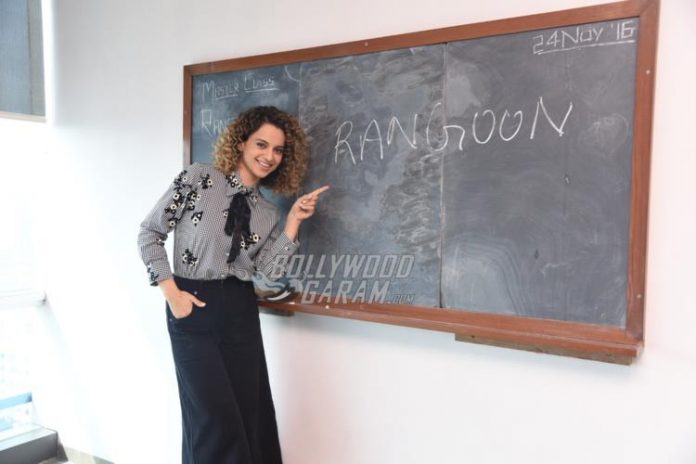 Kangana Ranaut speaks her mind on the current trending news in Bollywood
When she made her appearance on Koffee With Karan Season 5, Kangana Ranaut opened up a can of worms. Her comment caused a ripple effect in Bollywood, with a debate that had different views on 'nepotism' in the industry. Her comment was aimed at Karan Johar, but it looks like a lot of other Bollywood personalities are trying to come up with a logical reason as to why they are in the industry, apart from the fact that a family member and "connections" got them there. Even Varun Dhawan has his opinion about nepotism in Bollywood.
So when Kangana Ranaut was cornered at a recent appearance on a chat show, she clarified what she had meant about "nepotism" in the first place. She responded, "If you're talking about nepotism, it's not an objection, it's an observation. As an individual, it's my prerogative to leave my footsteps behind for the ones who will follow me. It is important they know where I fell, where I walked, stayed and ran…We should all work on it and not point fingers and make it sound like a fight to make the society more dramatic for everyone."
The Gangster actress made her way into Bollywood on her own. After taking up acting classes in New York and bagging a National Award for what she does best, Kangana Ranaut went on to become an A-list actress, starring in such hits like Tanu Weds Manu and Queen. At the moment, she's even taken to horseback riding for her upcoming role in the Jhansi Ki Rani biopic.
When she was asked about her opinion on the recent molestation scandal that has rocked the industry. Phantom Films partner and Queen director, Vikas Bahl was accused of sexual harassment towards a female employee and was ultimately terminated from his position with the company. Kangana spoke up: "…Whoever faces such situations and speaks up is courageous. Generally speaking, they should be encouraged to talk about it by their family, colleagues."
Image Credit: Viral Bhayani