Kannada star Rajkumar remembered through a vivid Google doodle
Singanalluru Puttaswamayya Muthuraju was born on April 24, 1929 to parents who were involved with theatre. He himself would one day become one of the biggest Kannada stars in the history of Indian cinema and be known widely as Rajkumar. His illustrious career was replete with 200 blockbuster films.
Rajkumar's career did not begin straightaway. He used to play roles in his father's theatre with only a limited audience. At the age of 8 he dropped out of school and was soon discovered by a filmmaker. But stardom didn't come till the age of 25, when he was cast as the lead in the South Indian movie Bedara Kannappa. It was the film's director, HLN Simha who named him Rajkumar.
But Rajkumar was not only a talented actor. He also lent his voice to numerous movie scores. His ability to change his pitch based on the tone of the scene was greatly appreciated by his audience. The most famous song he sang was Yaare Koogadali from the film Sampathige Savaal.
And his influence stretched beyond films and songs. Rajkumar was known for his pious life, having made sure that the roles he played on screen matched his personal life. He also was responsible for the spread of culture in the South of India and it is said that he had great political influence even though he never openly joined any political party or stood for any election.
One of the biggest headlines that Rajkumar managed to make during his lifetime, was when he was kidnapped by sandalwood smuggler, Verrappan. Though threats on his life were made previous to his abduction, he was ultimately held at ransom by the now deceased dacoit. He was finally released, unharmed, after 108 days in captivity.
Rajkumar passed away on April 12, 2006 – just a few days before his 77th birthday. He was mourned greatly in South India, with millions following his funeral procession in Bangalore. There were even reports of fans trying to commit suicide after hearing about his death.
During his lifetime and even after his tragic passing, Rajkumar has managed to let his legacy live on. His numerous films and his distinct voice have made him a true legend.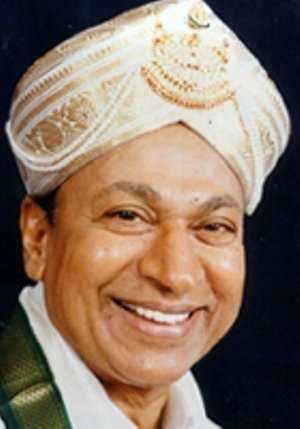 Image Credits: IMDb.com, Google Doodle Twitter