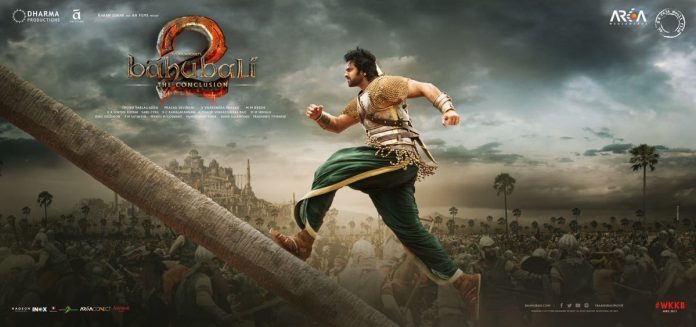 Baahubali 2 – The Conclusion is clearly on it's way to make more than Rs. 1000 crores!
We were expecting a massive opening weekend for the eagerly anticipated Baahubali 2: The Conclusion, but what the epic film has achieved in just a few days has been truly phenomenal. Director SS Rajamouli's juggernaut has kept on rolling since it's release on Friday morning, destroying all kinds of box office records along the way, and is showing no signs of slowing down. Having opened on a record 9,000 screens worldwide, including 6,500 in India, the response to Baahubali 2 has been unprecedented in Indian cinema.
Here are all the historic box office records broken by the multilingual blockbuster till now –
Record #1 The First Movie to Cross Rs. 100 crore on the First Day –
With an opening day collection of Rs. 121 crore, Baahubali 2 became the first film ever to earn more than Rs. 100 crore in just 24 hours! The Tamil, Telugu and Malayalam versions reportedly did business for Rs. 80 crore, while the Hindi version accounted for Rs. 41 crore. Total collections worldwide amounted to a staggering Rs. 217 crore.
Record #2 Highest Opening Day for a Hindi Film –
The Rs. 41 crore earned by the Hindi version of Baahubali 2 on the first day is higher than any Bollywood film ever. It broke the previous highs set by Salman Khan's Sultan (Rs. 36 crore) and Aamir Khan's Dangal (Rs. 29 crore). This mark is also the highest ever opening for a dubbed film, which could further narrow the gap between Bollywood and Tollywood films.
Record #3 Highest Weekend Collection –
Across all versions, Baahubali 2 earned more than Rs. 400 crore worldwide in its first 3 days. The Hindi version pocketed Rs. 128 crore in that period, easily surpassing the collections of Sultan (Rs. 105 crore) and Dangal (Rs. 107 crore).
Record #4 Highest Box Office Numbers for a Hindi film on a Monday –
The Hindi version reportedly earned over Rs. 37 crore in India on Monday, which brought its total worldwide earnings to more than Rs. 625 crore in just 4 days.
Record #5 Highest-Priced Tickets Ever –
According to news reports, tickets for the movie were being sold at prices never heard of before. Rates soared as high as Rs. 4000 per ticket in Telangana.
Record #6 Biggest Blockbuster Overseas –
Box Office records have been shattered overseas too, as Baahubali 2 benefited from the widest worldwide release ever. The first four days accounted for Rs. 135 crore of revenue from overseas box offices, with over Rs. 65 crore coming just from the USA in the first 3 days. Such a feat was considered almost impossible for an Indian film to accomplish. At the US Box Office, Baahubali 2 opened at number three this weekend, behind only the latest Fast and the Furious movie and How to be a Latin Lover starring Salma Hayek. It even managed to beat out The Circle, starring Tom Hanks and Emma Watson.
Record #7 Record Online Bookings –
According to leading ticket-booking website Book My Show, the film had already broken records for advance bookings, with more than 1 million tickets pre-booked in just a day. They also announced that one Baahubali 2 ticket was sold every 12 seconds, a new record on their platform. Sales surpassed that of the prequel by more than 350%.
With Baahubali 2: The Conclusion already close to Rs. 700 crore, it won't be long before it goes past the Rs. 792 crore lifetime earnings of India's highest grossing film, Aamir Khan starrer PK. It is still running in front of packed houses around the world, making it only a matter of time before it becomes the first film to cross the mammoth Rs. 1000 crore benchmark.