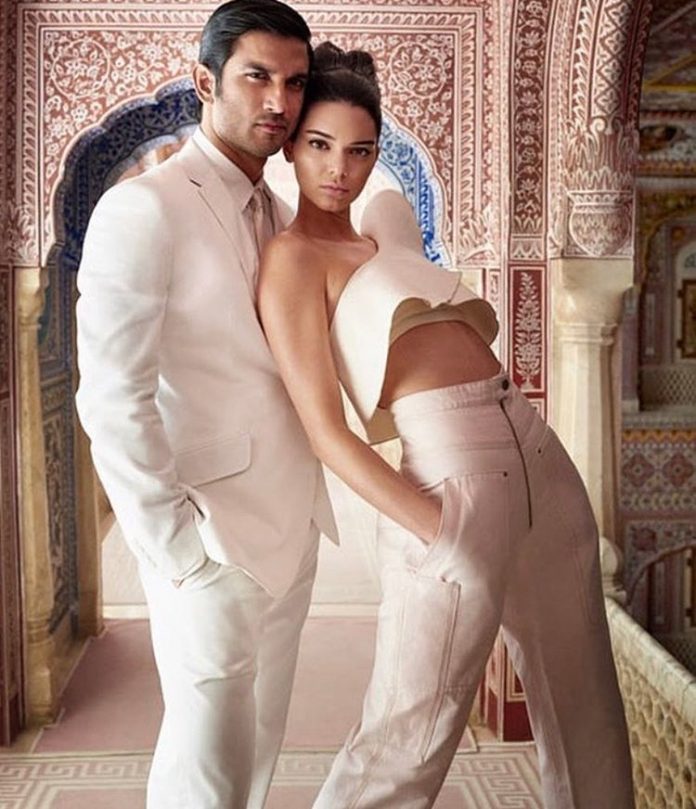 Sushant Singh Rajput and Kendall Jenner have done a sizzling photoshoot with Mario Testino for Vogue India's upcoming issue titled Indian Affair
As Vogue India celebrates completion of 10 years, it is all geared up to release a Rajasthan themed issue featuring Kendall Jenner, Katrina Kaif and Sushant Singh Rajput among other celebrities. International model, Kendall Jenner flew down to India earlier this year for an exclusive photoshoot for Vogue India magazine's 10th anniversary issue cover with famed photographer, Mario Testino. Mario even did a stunning photoshoot with Katrina Kaif for his popular towel series while in India.
Pictures from the photoshoot are finally out and are oozing with sex appeal! But one picture in particular of Sushant Singh Rajput and Kedall Jenner have taken the internet by storm. It features Sushant Singh Rajput standing tall and confident in a white attire as Kendall leans against him wearing an off shoulder top and a pair of white trousers. The photo is set against the rich background of Samode Palace in Jaipur and their undeniably hot chemistry steals the limelight.
Earlier when the two were spotted together in Jaipur, speculations were rife that Sushant Singh Rajput and Kedall Jenner will be doing a movie together. But Sushant Singh Rajput's photos with the Victoria's Secret angel have sent tempratures soaring all across! The anniversary special issue of Vogue India expected to release later this May.
While talking about the photoshoot with E!, Mario Testino said, "Different elements of India have influenced my world—and in turn this issue. It's the people, the art, the colours, the elephants and everything in between. I wanted to bring my world truly to this amazing nation, by shooting the issue in India. I wanted it to stay true to the Indian spirit."
See all the pictures from Sushant Singh Rajput and Kedall Jenner's photoshoot with Mario Testino for Vogue India's 10th anniversary edition –
Featured image credits – Sushant Singh Rajput official Instagram account