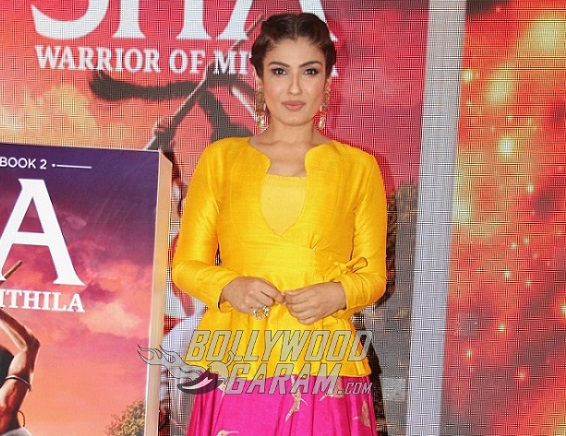 Popular author Amish Tripathi launches the cover of his book Sita – Warrior of Mithila with Raveena Tandon
Actress Raveena Tandon launched the cover of author Amish Tripathi's book Sita – Warrior of Mithila at an event in Mumbai on May 3, 2017. This is the third book from the series The Scion of Ishvaku by the author. Raveena appeared in an ethnic outfit consisting of a yellow peplum top and a magenta skirt for the launch event.
Author Amish during the event said, "The popular version of Sita's character from Ramayana looks like a character of 1990s television serial, whereas, she was a strong lady who fought with a group of people but was outnumbered, got kidnapped. In fact, the cover of the book depicts that episode." The author plans to throw light to the idea of strong women that existed in the ancient India and re-establishing the fact that women have always been strong since ancient times.
Raveena during the event shared her views and said "In our ancient society, women had right to make their choices and they were treated as equal counterparts of men. They were brave. So by celebrating the powerful side of women through this book, I am sure Amish is conveying the idea of powerful women."
The cover of the book unveiled at the event has shown Sita as a powerful person and has also portrayed her as a fearless warrior. Many celebrities took to their twitter accounts to wish Amish for the successful launch of the cover.
Union Minister Smriti Irani also Tweeted saying, "Congratulations @authoramish , amazing cover. Best wishes". Indian politician Shashi Tharoor too wrote, "Fabulous cover! Kudos to @authoramish whose 1st two novels I had the pleasure of launching in Delhi" Other celebrities like Anupam Kher and Vivek Oberoi too wished the author success for his upcoming book.
Raveena was last seen in her come-back action flick Maatr. Currently she is a judge on the children's reality show Sabse Bada Kalakaar, where the contestants are judged on their comic timing. Raveena also lent her voice in jungle adventure animated film titled Hanuman Da'Dumdaar, directed by Ruchi Narain.
Here are a few pictures of Raveena and a clip from the launch of, Sita – Warrior of Mithila –
Photo and video credits – Viral Bhayani