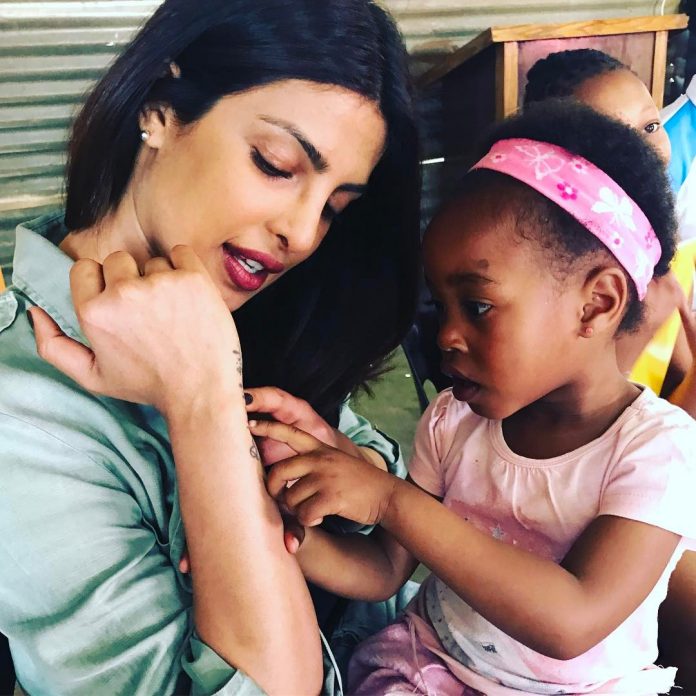 "When I met these survivors and listened to their experiences, it just broke my heart", Priyanka said to UNICEF
Actress/ Singer / Producer / Beauty Queen, Priyanka recently visited Harare, Zimbabwe to meet child survivors of sexual violence. Being a UNICEF Goodwill Ambassador Priyanka Chopra has called for increased awareness and support for child victims of sexual violence. The actress visited the country along with a UNICEF Team where she met the survivors and heard their heart wrenching stories.
"When I met these survivors, young brave women and children, and listened to their experiences, it just broke my heart," said Priyanka to UNICEF. "I will never forget their stories."
Priyanka's first stop was in Chitungwiza, south of Harare, Zimbabwe, where she met 13-year-old, Alice, who was repeatedly raped by an uncle and was threatened if she revealed the abuse. Priyanka said that, "Alice told me how she had regular abdominal pains, she was 11 at the time, but her mother was unaware there was something wrong. It was only when a relative saw condoms in her bedroom, and realized she was sexually active, that the truth came out and by then she was pregnant. Alice disclosed that her uncle had raped her several times between January and February this year."
With her mother and neighbours' help, the incident was reported to the police. Alice was referred to Family Support Trust, supported by UNICEF, which runs a child-friendly clinic providing medical and psychosocial support for sexually abused children. She also attended a peer support group of teens and received regular home visits from social workers to provide the support she needed. The uncle was arrested, tried and jailed for 10 years.
"Sadly, Alice's story was just one of too many stories I heard from brave young girls during my visit to Zimbabwe. No woman, and most definitely no child, should ever have to experience sexual violence – especially from someone they trust for protection, such as a family member." said Chopra. Priyanka has been a UNICEF Goodwill Ambassador since December 2016 and a UNICEF India Ambassador for the last 10 years.
On the second day of her trip, Priyanka visited Childline Zimbabwe, the country's 24-hour service for children who have been abused, violated or exploited. She also gave multilingual counselling to children aged 18 years and under. Childline also offers 25 community based drop in centres throughout the country.
"The counsellors, all volunteers, told me that many calls come from children in hysterics because they had been raped or abused. They were so scared. Without Childline, they would have nowhere to turn. This is a model that many countries with high rates of violence against children can adopt, because it is a safe place for children to turn to and know that their call will be answered by a compassionate person who will take their complaints seriously and respond.", said the 34 year old actress.
In 2016, 3,690 reports of sexual abuse were received by Childline. The children were given counselling and medical assistance. A survey that was carried out in Zimbabwe found that 30 percent of girls aged between 15-17 years who experienced sexual violence never sought help or told anyone.
On the work front, Priyanka Chopra is currently busy for the promotions of her Hollywood debut film, Baywatch that stars Dwayne and Zac Effron in the lead roles. It is directed by Seth Gordon and is scheduled to release on June 2, 2017 in India.
See some of the wonderful photos Priyanka shared on her Instagram account from the brief trip –
Picture Credits – Priyanka Chopra Official Instagram Account