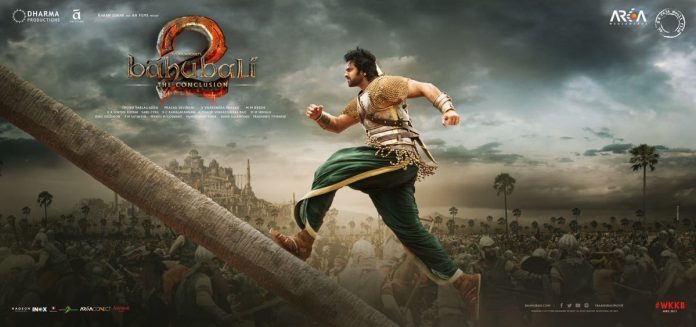 Baahubali 2: The Conclusion collects over 1000 crores at the global box office within 10 days of its release
The epic film that is Baahubali 2: The Conclusion has become the biggest film in the history of Indian cinema. The flick has earned a total of rupees 1000 crore at the worldwide box office and counting. Baahubali 2 was released in a number of languages to suit an audience spectrum across the country, including Hindi, Tamil, Telegu, Malyalam and Kannada. Just in 10 days of its release in over 9,000 theatres, it has shattered any previous box office collection records for other films.
Baahubali 2: The Conclusion is the sequel to the hugely successful Baahubali: The Beginning. The first film earned an amount to the tune of 650 crores at the box office, and was still more commercially successful than any other film in Indian cinema. The mythical tale of Mahishmati narrated by Kattappa has captured the imagination of Indian as well as global audiences with its relatable characters, believable acting and of course, mind-blowing VFX visuals.
The film itself was created on a high budget, since the prequel already did so well. Baahubali 2: The Conclusion continues the story of how Amarendra Baahubali was killed by Kattappa. The film stars Prabhas as Amarendra, Rana Daggubati as Bhallala Deva, Anushka Shetty as Devasena and Satyaraj as Kattappa.
Already Bollywood is feeling a little left out, after a South Indian film has broken any and all records. Veteran legend Rishi Kapoor made snide remarks on Twitter about the lack of such epic movies being made by Bollywood and that the industry is lagging behind. He said, "Seeing Bahubali 2 now. Interval. Chat later about the film. I want to know where has this film been shot? I want a 2 BHK there! Any agent? "BAHU"t"BALI"yaan chadengi filmon ki to match this film's triumph and business. An Indian celebration.Glad am part of this business of films."
Meanwhile, Kunal Kohli has put in his opinion about Bollywood and Baahubali 2: The Conclusion. He commented through his Twitter account: "So the stars of #Bahubali2 didn't go on reality & comedy shows & make an ass of themselves doing silly things & answering silly q&a's".
"BAHU"t"BALI"yaan chadengi filmon ki to match this film's triumph and business. An Indian Celebration.Glad am part of this business of films pic.twitter.com/lGYpDZR1W0

— Rishi Kapoor (@chintskap) May 7, 2017
So the stars of #Bahubali2 didn't go on reality & comedy shows & make an ass of themselves doing silly things & answering silly q&a's

— kunal kohli (@kunalkohli) May 7, 2017