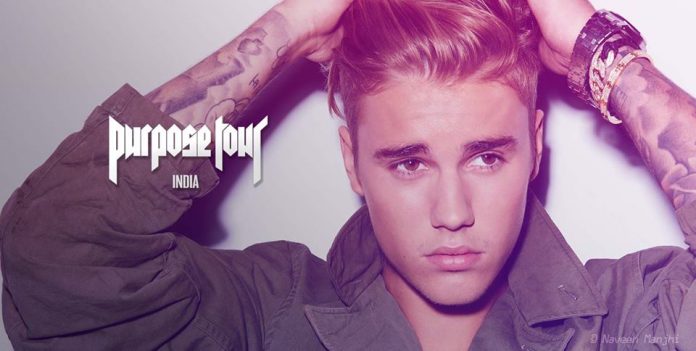 More than 500 policemen to be deployed for Justin's security, says Navi Mumbai Police Commissioner
Fans, or as they are called Beliebers are coming up with different ways to give their favourite singer, the Canadian popstar, Justin Bieber, a warm welcome. The singer will arrive in Mumbai on May 9, 2017 and so a lot of security has been arranged for the international celebrity. He will perform as a part of his Purpose World Tour at D.Y. Patil Stadium in Mumbai on May 10, 2017.
Police will provide security, including surveillance by drones on the day of the concert. Navi Mumbai Police Commissioner, Hemant Nagrale said that, around 500 policemen and 25 officers would be deployed for security and emergency disaster management at the concert. Police will also be there at the entry-exit gates to handle the crowd. Inside the stadium, plainclothes police would be on a watch. A special control room would be functional and a CCTV surveillance system with a command centre would monitor the event.
Before the concert, the entire stadium would be checked by the Bomb Detection and Disposal Squad. The organisers, White Fox shall deploy private security agencies for crowd management and ticket checking. They have also arranged parking slots for around 15,000 and shuttle services to and from the stadium.
20 year old Annie Anthony, who is an aviation student has been waiting with other Beliebers at the airport for almost 24 hours. "We don't want to miss seeing him. We have been waiting for him to come to Mumbai for the past seven years. We will welcome him with a bunch of roses.", Anthony said.
Justin Bieber's one of India's largest fan club, Indian Beliebers' Community has made a 160 metre long scroll with messages from fans for the singer. Navin Manjhi, 20 year old, who started the group in 2012 to unite Beliebers said, "We have been working on the scroll since April. We have received around 300 messages and Bieber fan art, from fans across the country. If it crosses 163-m, we have a chance of making a Guinness World Record. The idea was to bring his fans on one platform. All of us are inspired by Justin. We organise events such as Bieber parades. Our most recent project was a fundraiser for underprivileged kids." Manjhi's group has more than 62K followers on Facebook and 2,500 on Instagram.
Now lets see if Justin Bieber gets impressed by his Indian fans or not!