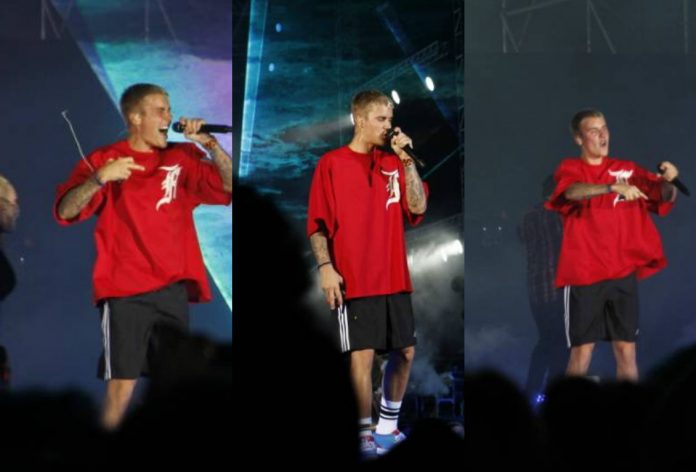 LIVE photos from Justin Bieber's performance at DY Patil Stadium Mumbai on May 10
After much hype and fanfare which took the entire nation by storm and brought Mumbai to a standstill, Justin Bieber's Purpose World Tour 2017 India Concert has finally come to an end after a 90 mins long performance by the international pop sensation. His act was opened by DJ Alan Walker after which Justin took the stage at around 8 20 pm.
Justin Bieber was given an uproarious welcome by 45,000 people at the stadium, most of whom lined up since early morning to get a glimpse of the star. The sky filled with fireworks as he arrived on stage! Justin opened with his hit song Where are you now and moved on to perform various other hits including Sorry, Cold Water, Boyfriend, I'll Show You, Company, Let me love you, Boyfriend and Baby. He ended the concert with Baby with the entire stadium singing along! The concert ended at 10 pm and Justin thanked his audience for all love and support. His final words before leaving the stage were, "Thank you India, you've been great, I would like to come again…" He further added,  "No matter who you are, how old you are, you have a purpose. I just really love you guys," and promised to come back for another show.
Further, the pop sensation even invited the 100 underprivileged kids he gave free tickets to and interacted with them on stage.
His concert was attended by scores of Bollywood celebrities including Alia Bhatt, Sridevi and her daughters, Jacqueline Fernandez, Malaika and Arbaz Khan, Sonali Bendre, Rohit Roy and others. See entire gallery of celebrities from Justin Bieber's Concert. Reportedly, Ranbir Kapoor's sister Riddhima is a big fan of Bieber and has designed two special bracelets as a gift for him and his mother!
 Now enjoy our exclusive gallery from Justin's rocking performance at Justin Bieber India Concert 2017 tonight –