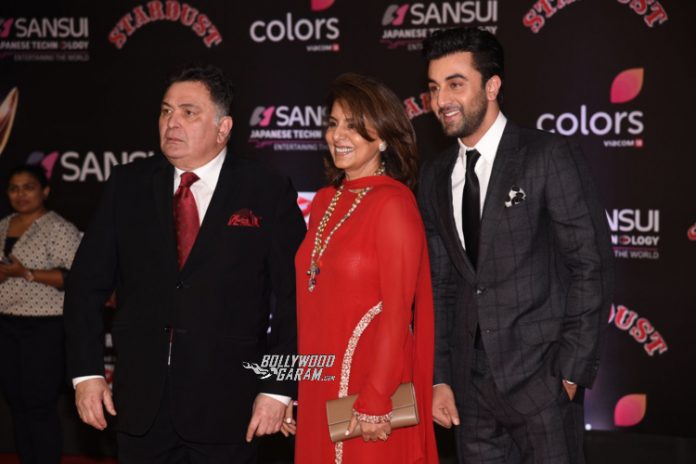 According to a "source", Ranbir Kapoor was in London, meeting with his potential wife and her business family
Ranbir Kapoor may be one of the most eligible bachelors of the country, but the actor still needs his mother to find him the right girl! Neetu Singh and her son visited London these past couple of days. The actor has been working hard for a number of months, and wanted to take a break. But speculation is rife that he was actually visiting the United Kingdom for a more personal reason – to look for a possible life partner!
A source close to the star told a popular daily, "Ranbir and Neetu were in London to meet a girl for Ranbir's marriage. The girl they met is from a business family in London and the meeting was fixed by one of Neetu's close friends. Ranbir is keen to settle down now and Neetu has made no bones about the fact that she would like to choose the girl who is not from Bollywood, for her son. She never approved of his earlier girlfriends, Deepika Padukone or Katrina Kaif. Both, Ranbir and Neetu, met the girl and her family and liked them. Now, it remains to be seen whether things will get finalised from here."
The 34-year-old was in two high-profile relationships since his Bollywood debut. They were so in love that she even had a tattoo of his name on her neck. However, their relationship ran its course, and Deepika has gone on to become a hugely successful, independent woman, doing international movies and gracing some of the biggest red carpets in the world. She also has her man, Ranveer Singh, by her side and looks happier than ever.
As for Ranbir Kapoor and Katrina Kaif, the two were smitten in love. That relationship, too, turned sour and the former couple weren't even on speaking terms for a while. However, now for the sake of their work, they have completed their Anurag Basu movie, Jagga Jasoos. Even during their relationship, Ranbir's mother was not happy with the relationship.
Neetu Singh, after her own marriage with Rishi Kapoor, had quit her successful Bollywood career at the time, to raise her two children – Ranbir and Ridhima. It would be obvious, then, that she would like a similar wife for her own son. Eventually, Ranbir Kapoor is going to get married, so it might as well be someone his mother approves of!
Image Credit: Viral Bhayani