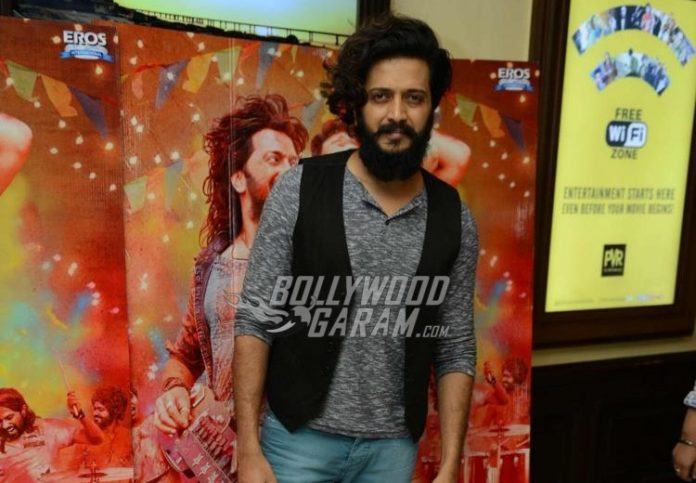 Filmmaker Ram Gopal Varma tweeted that Riteish Deshmukh will be a part of Chhatrapati Shivaji's biopic
In this era of making biopics, reports and speculations have indicated that Riteish Deshmukh will be playing the role of the Maratha warrior Chhatrapati Shivaji . The hint came from filmmaker Ram Gopal Varma who informed about the progress in his Tweet.
Varma Tweeted, "After the 'Baahubali' thunder I just heard great news that Riteish Deshmukh is making Shivaji at a whopping cost of more than Rs 225 crore." The filmmaker continued to compare Baahubali with Shivaji's story and said that the Maratha warriors story is more heroic than Baahubali. Varma not just instigated speculations but also went on to talk about his expectations with the film and said that he expects magnificent battle scenes and added, "Shivaji is known throughout India as the bravest son of India who fought against invasion. I am sure the battle scenes will be magnificent".
The filmmaker also thanked Riteish to venture in to making the greatest Indian film ever. The film on Chhatrapati Shivaji will be directed by Ravi Jadhav who has earlier made the blockbuster Marathi flick Balak-Palak and Riteish will be donning the hat of a producer. As for Ram Gopal varma, the director is gearing up for the release of his film Sarkar 3 featuring Amitabh Bachchan, Jackie Shroff, Manoj Bajpayee, Amit Sadh and Yami Gautam.
After the Bahubali thunder I just heard great news that RiteishDeshmukh is making Shivaji at a whopping cost of more than 225 crores

— Ram Gopal Varma (@RGVzoomin) May 11, 2017
Shivaji's story has more heroism and drama than Bahubali nd he was real unlike Bahubali which will make it a more thrilling experience

— Ram Gopal Varma (@RGVzoomin) May 11, 2017
Shivaji is known throughout india as the bravest son of india who fought against invasion ..Am sure the battle scenes will be magnificient

— Ram Gopal Varma (@RGVzoomin) May 11, 2017
Shivaji being the subject as an audience I want to thank Riteish for venturing to make the greatest Indian film ever ?????????

— Ram Gopal Varma (@RGVzoomin) May 11, 2017
Am sure Riteish is doing Shivaji at this large scale only for it to become ultimate pride of Maharashtra like Bahubali for Andhra Pradesh

— Ram Gopal Varma (@RGVzoomin) May 11, 2017
Photo Credits: Viral Bhayani