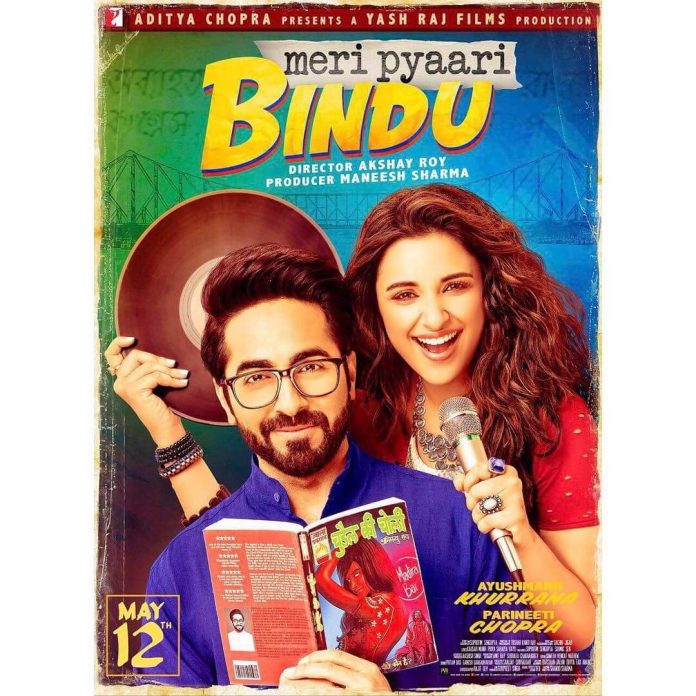 Parineeti makes a banging comeback after 2 years with Akshay Roy's Meri Pyaari Bindu
Movie – Meri Pyaari Bindu
Director – Akshay Roy 
Cast – Parineeti Chopra, Ayushmann Khurrana, Abish Mathew, Aparajita Auddy, Malvika Sitlani
Bollywood Garam rating – 3/5
Meri Pyaari Bindu review – Produced by Yash Raj Films, Meri Pyaari Bindu is a big hit for its lead actress Parineeti Chopra, whose last film was Kill Dill, released in 2014. The film released on May 12, 2017. Directed by Akshay Roy, Meri Pyaari Bindu is a romantic comedy film.
Ayushmaan Khurrana who plays the role of Abhimanyu Roy aka Abhi is a writer whose best-selling stories are of horror and thrill genre. He doesn't believe in writing real experiences because he thinks everyone writes them.
For some reason, however, Abhi is stuck on his current book, which took three years in making and is still not complete. There is something that is bothering him and that is why he is not able to focus on the book. In the movie, we see him drinking whiskey while working on his love story.
Through his writing, we see Kolkata's old city vibe. Through Abhi's parents, we find out about his unrequited love. As he writes, we get to know more about his childhood friend, Bindu who is played by Parineeti Chopra. She is fair and crazy and she wants to fulfill her ultimate dream of becoming a singer.
The narrative goes back to flashback about Abhi and Bindu and then we come back to the present day where Abhi is writing about her while listening to old songs.
When Abhi and Bindu meet for the first time, Bindu gives Abhi a Walkman with old songs and says, "Listen to this, it will change your life." It lays the foundation of their music-filled relationship. There are a lot of old songs like Aaiye Meherbaan, Abhi Na Jao Chod Kar, and the music ties everything together.
As they grow young, their relationship stays strong. They are not lovers but there is something strong and special between them. There's a whole bend between Abhi and Bindu.
Bindu is a character of a bubbly girl, which Parineeti acted very well. There's a scene when she sings Do Naina Ek Kahaani in a college competition and one couldn't take their eyes off of her face.
Abhi and Bindu move to different cities but they still write to each other and stay in touch. But over the time, it fades away. The set up of the story of Abhi and Bindu is very realistic. Even the emotions and feelings are not overdone.
Ayushmaan narrates the story of Bindu like a writer. The situation has a sense of drama, something that all writers do.
There's a dialogue in the film that shows the relationship between Bindu and Abhi which touches the heart of the audience. The couple was sitting on Marine Drive and reminiscing their old days. Bindu asks Abhi if he remembers her old terrace room in Kolkata. He says he does. She tells him that she used to go the terrace room whenever she felt happy or sad. And then she says, "You are my terrace room, Abhi."
At this point, the chemistry between the couple moves from friends into lovers. But, there is a fracture in their story. It seems like the conflict has been forced into it because a happy ending can't come into the film so easily. In the film, music is the most powerful medium that pulls the story together.
The ending of the film goes a bit flimsy and will leave you with many questions. Else, the film did really well. Parineeti made her comeback after 3 years. Her next upcoming is Rohit Shetty's Golmaal 4 which is set to release during Diwali 2017.