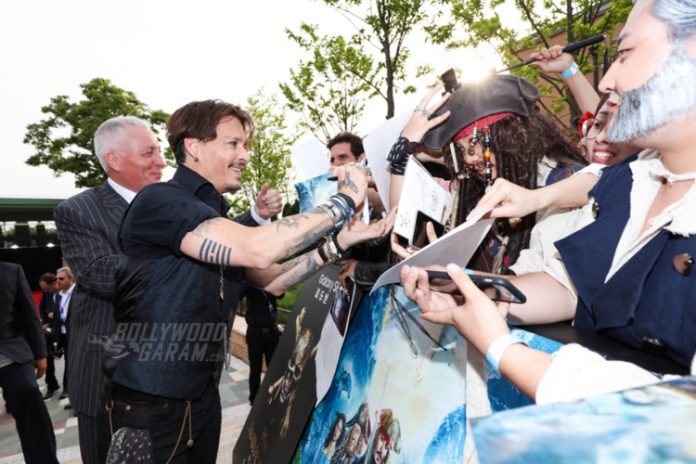 Pirates of the Caribbean: Dead Men Tell No Tales to release during Dragon Boat Festival in China
Walt Disney Pictures' Pirates of the Caribbean: Dead Men Tell No Tales is the fifth movie of the series, Pirates of the Caribbean. The captivating pirates were spotted at Shanghai Disneyland on May 11, 2017, for the world premiere of the film. Pirates of the Caribbean: Dead Men Tell No Tales stars Johnny Depp, Javier Bardem, Brenton Thwaites, Orlando Bloom, Kaya Scodelario and many others.
Before the premiere, the stars walked down the red carpet inside Disney's new theme park as fans surrounded them to have a picture with Johnny Depp, Orlando Bloom, Javier Bardem and others.
This new film of the franchise returned Johnny Depp to his Academy Award – nominated role as the outrageous antihero Captain Jack Sparrow. Oscar winners Javier Bardem and Geoffrey Rush joined this new adventure of Pirates of the Caribbean. Produced by Jerry Bruckheimer and directed by Joachim Ronning and Espen Sandberg, Pirates of the Caribbean 5 is a lighthearted tale of the high seas with the elements of fantasy, humor, and action. The series have resulted incredible in an international phenomenon for the past 13 years.
Dead Men Tell No Tales will hit Chinese theaters on May 26, 2017. The film's release is timed to coincide with the long Dragon Boat Festival holiday weekend, which runs from May 28, 2017, to May 30, 2017.
"As the resort has become a true national destination in China, attendance is outpacing our most optimistic projections and the park's performance is exceeding our expectations," Disney Chief Executive Officer Bob Iger said.
Recently, the latest Fast and Furious film became China's highest-ever grossing imported film, taking in over $380 million at the world's second biggest box office. The film became a major financial success.Shanghai has become a frequent stop for promoting Disney films. In February, Emma Watson and Dan Stevens flew to China for the release of their film, Beauty and the Beast.
See entire gallery featuring entire star cast of Pirates of the Caribbean: Dead Men Tell No Tales as they inaugurate Pirate Cove at Disneyland Shanghai –