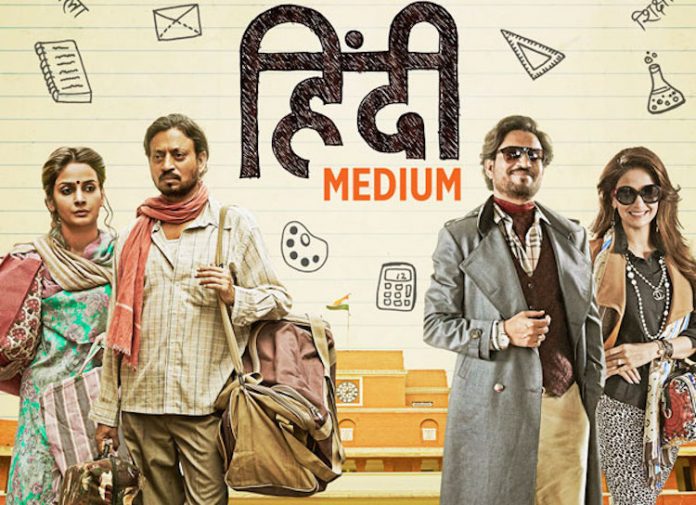 Irrfan Khan is the star of Hindi Medium
Movie name – Hindi Medium 
Director – Saket Chaudhary
Cast – Irrfan Khan, Saba Qamar, Dishita Sehgal, Tillotama Shome, Deepak Dobriyal, Swati Das
Bollywood Garam rating – 3.5/5
Irrfan Khan lights up the screen with a fine performance in Hindi Medium, a film that entertains while exploring the prevalent 'India-Bharat' issue of language dividing our society. He and Saba Qamar, making an impressive Bollywood debut, play Raj and Mita Batra, a Hindi-speaking Delhi couple who rose in wealth and now belong to the nouveau riche. Raj owns a clothes store in Chandni Chowk, from where he runs a successful business selling 'original copies' of designer wear. However, money isn't sufficient to break the class barrier, and this becomes blatantly obvious when they try to get their daughter Pia (Dishita Sehgal) admission in one of Delhi's leading private English-medium schools.
Mita is adamant that they should provide the best possible education for their child whatever the cost, and so the family shifts their residence to a posh South Delhi locale in Vasant Vihar. They change their lifestyle to reflect a more anglicized version of themselves, including the clothes they wear and music they listen to. And even despite training with a consultant for school admissions (Tillotama Shome), they simply don't cut it in their interviews with the snobbish elitists running the schools, who see through their pretense
When all else fails, they decide to disguise themselves as poor, so that Pia can access the seats reserved for applicants from the economically weaker sections, under the Right To Education Act. It is at this point that the story takes a slightly uneasy turn, as the well-off family is forced to confront the poverty-stricken life of Delhi's slum-dwellers. There to help them through the difficult experience is a good-hearted, impoverished couple, Shyamprakash and Tulsi, played brilliantly by Deepak Dobriyal and Swati Das. Dealing with some quite sensitive situations involving class and wealth, Hindi Medium mostly does well to address the subject matter without resorting to convenient stereotypes or populist agenda. The climax, inevitably involving an unnecessary speech from the protagonist, unfortunately takes away from the film's well-crafted subtlety to that point. Nevertheless, the journey to get there is well worth it, thanks to the marvelous performance from Irrfan, who captures the essence of his character with perfect comedic timing. He is effortlessly hilarious in his role as a simple, unpretentious man who struggles to fit in with the old money crowd. He is ably supported by Saba Qamar, who sparkles in her role as a dominating Chandni Chowk wife with aspirations to climb the social ladder.
The film serves as an essential comment on the system of education in the country, highlighting the deficiencies in both private and government schools, as well as the unfairness of the admissions process. It also provides a glimpse to the hierarchies amongst the wealthy, a nuance that has largely been ignored by Bollywood cinema until now. While it does get somewhat sanctimonious and over-dramatic by the end, Hindi Medium sticks to its message and boldly drives its point home. It certainly isn't part of the usual commercial fare we are served most weeks in theatres, and director Saket Chaudhary is worthy of the praise that should come his way for this achievement.