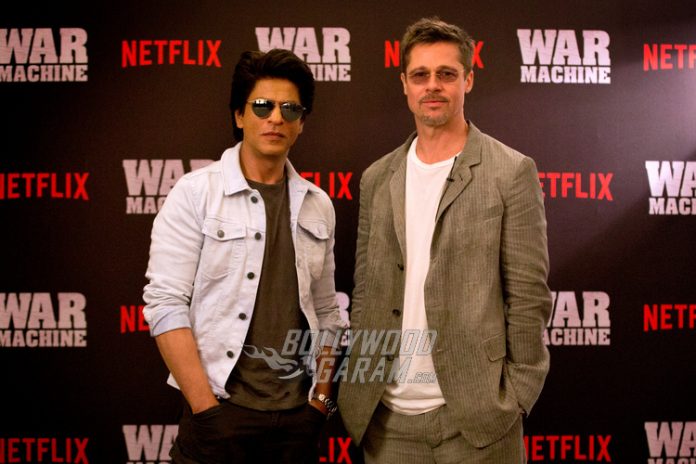 Shah Rukh Khan and Brad Pitt indulge in a deep conversation about the future of Hollywood and Bollywood
Hollywood A-list actor Brad Pitt was in town to promote his film War Machine that premieres exclusively on Netflix. Leaving his divorce woes with Angelina Jolie back home, the dapper star exchanged ideas on films with none other than Bollywood superstar, Shah Rukh Khan. Throughout their one-hour conversation in the presence of the media, Brad Pitt stayed reserved, though Shah Rukh Khan was conversational and interactive.
Part of their talk was about Pitt foraying into producing films, as he has done with director David Michod's War Machine through his Plan B production house. The movie will premiere on Netflix this Friday, May 25.
One of the questions that Shah Rukh Khan was asked by mediator Rajeev Masand, was how he has managed to avoid being self-absorbed after becoming the badshah of Bollywood. To this, the superstar replied, "I think certain amount of self-absorption is necessary for any creative person to be. You are not a machine that you will be following what people think should be doing. You have to have free thinking. A little bit of self-absorption is required to be individualistic, but beyond that, no…Brad and I, we love ourselves because we are stars and good actors."
While talking about two major cinematic industries of the east and west – Bollywood and Hollywood, Shah Rukh Khan expressed his concerns with the future of Hindi cinema. "If we don't adapt ourselves in terms of marketing, visual effects, scriptwriting and professionalism, we will be overtaken. The language barrier is no longer there. Spider Man does as well as a Hindi film, so we need to adapt. If we don't do that, we'll have an issue over the next 20 years."
He believes that the key to Bollywood sustaining itself in the future of cinema, is to stick to its roots and tell the Indian story. "We have such wonderful stories to tell but we aren't telling them well enough. We treat our stories like fads. Singing and dancing has to be a part of Bollywood movies, if only to keep Brad [Pitt] away from our movies. But we should learn from Hollywood."
Image Credit: Viral Bhayani