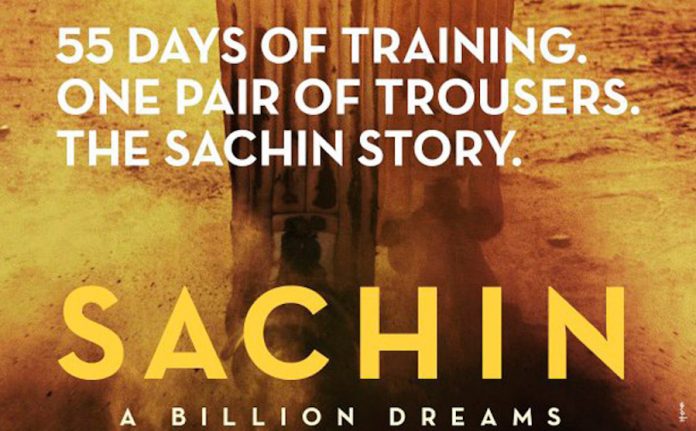 The film shows that one can become Sachin only through determination, patience, and hard work
Movie name – Sachin – A Billion Dreams
Director – James Erskine
Cast – Sachin Tendulkar, Arjun Tendulkar, Virendra Sehwag, Mayuresh Pem, Mahendra Singh Dhoni, Anjali Tendulkar, Sara Tendulkar
Bollywood Garam rating – 4.5/5
Sachin – A Billion Dreams is a documentary on cricket legend, Sachin Tendulkar. It is all about a peek into the cricketer's life. Sachin Tendulkar plays as himself and shows the difficulties and problems that he faced to reach where he is now. The film is a footage of him in his personal space with his wife, Anjali, children, Arjun and Sara and other family members. The fact that the Indian cricket icon himself is the narrator in the film who walks the viewer through his victories and injuries is an additional bonus for the film.
The film, Sachin – A Billion Dreams shows Tendulkar's introduction to the world, the time when he hit Pakistan's Abdul Qadir for four sixes in one over at 1989 Exhibition Match. Another memory revisited in the film is when he reduced Australia's Shane Warne into a punching bag in the 1998 Chennai test against the Aussies. His victories and achievements are far too many to be captured in one film.
In a brief interview with Bombay Times, the Master Blaster answered a few question regarding the film. He said, "Some people think that if you work hard for three months, you can get medals. It's not easy because the rest of the world is also targeting those medals. It has to be consistent."
He also added, "We shot at that particular spot in Shivaji Park where I started my career. When I went there, I just stood still for a few minutes and recounted the time when I had played the first ball of my career. It was a beautiful feeling. It was like life coming full circle."
The film, Sachin – A Billion Dreams directed by the award-winning British director, James Erskine is a reminder that genius and talented people may be born, but one can only become Sachin Tendulkar through determination, patience, and hard work preparation.