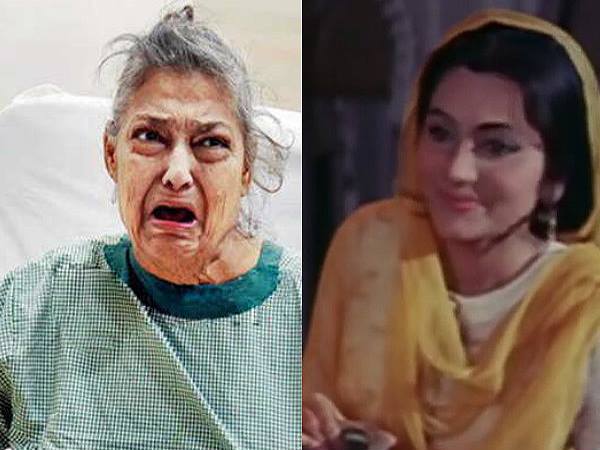 Old-time actress, Geeta Kapoor is known for her fame in the classic movie, Pakeezah. Recently, the talented actress revealed her sad story about being abandoned by her son in a hospital.
As reported by a leading daily, the 58-year-old actress was admitted to the SRV Hospital in Goregaon for failing blood pressure by her son, Raja. When asked to pay the bills, Raja set out in the pretext of finding an ATM but never returned. It's been a month since then. All attempts of contacting him and Geeta's daughter Pooja went in vain. The hospital continued the treatment and drew a bill of Rs.1.5 lakhs.
According to the report, Geeta revealed that "He used to beat me up as I did not approve of his philandering ways. He would give me food once in four days, and sometimes, even lock me up for several days. I was not ready to go to an old-age home, that's why he planned all this. He deliberately kept me hungry and I fell ill. Then, he got me admitted and fled."
The doctor who was treating the star was quoted in the report saying, "Raja got her to us, lying about him being an army officer and she needing urgent treatment. He was asked to pay a deposit and complete the formalities. He left saying he would get money from the nearest ATM but never returned. We had no option but to start the treatment as she was in a bad shape."
He further added, "I even sent an ambulance to their home to trace him. But the neighbors said the family had left the house that very day."
It's been over a month and nobody from her family has come to get her discharged from the hospital. A report informs that the producer Ramesh Taurani and Ashoke Pandit have come forward to pay her hospital bill. Taurani doesn't even know Geeta Kapoor personally but still, he has come to help her by reading about it on the news.
Reports suggest that the hospital has filed a complaint with the police who are trying to trace Geeta Kapoor's family. It has also been said that after admitting Geeta to the hospital, Raja moved out of their flat. This clearly hints that the son has been planning to abandon his mother for quite some time.
Written and directed by Kamal Amrohi, Pakeezah is 1972 Indian classic film. It also starred Meena Kumari, Raaj Kumar, and Nadira Babbar in lead roles. Geeta Kapoor has also starred in over 100 Bollywood films in the 70s and 80s.
Picture Credits: I Love Bollywood FB Page