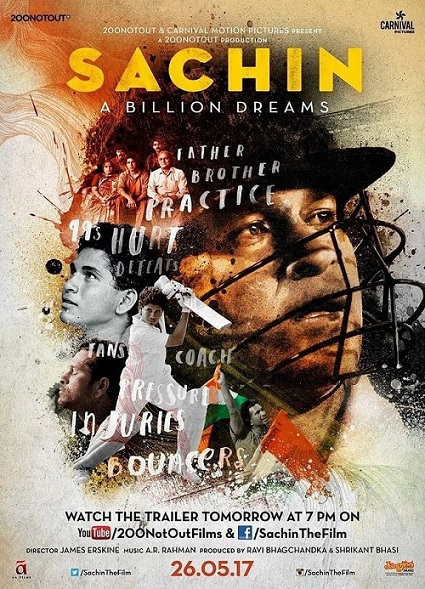 Sachin: A Billion Dreams is the biopic of Sachin Tendulkar and released in theatres last Friday
Sachin Tendulkar's big screen biopic, Sachin: A Billion Dreams opened in theatres last Friday, and going by the box office collections, it looks like fans have been queuing up to get their tickets. According to trade analysts, the film made Rs. 9 crore on Sunday, and adding up its collections for opening night on Friday as well as Saturday, the total revenue made was Rs. 23.94 crores!
Sachin: A Billion Dreams is a film that should be watched by anyone calling themselves a fan of the Master Blaster. It takes a walk back down memory lane, beginning at the young life of the cricketer. A middle class Maharashtrian boy, it follows the roots of his passion for cricket and how through hard work and determination, he managed to become one of the most celebrated sportsmen in the country.
Also see: The star-studded red carpet premiere of Sachin: A Billion Dreams
The film stars the man himself. It also features appearances and interviews with his family, including his wife, Anjali Tendulkar and his two kids – son Arjun Tendulkar and daughter Sara Tendulkar. Fellow cricketers, including Mahendra Singh Dhoni have cameos in the film.
Sachin: A Billion Dreams is directed by award-winning filmmaker James Erskine, who wanted to re-create the story of the cricketing legend in a unique way. Instead of having actors play the role, he wanted to make it more personal and have the star himself share his story with the world.
Since the release of the film, the Maharashtra government has declared the film tax-free in the state. Already Odisha, Chattisgarh and Karnataka have released the film tax-free. The film has been shot in English, Hindi and Marathi, but has also been dubbed in Telegu and Tamil for a wider South Indian audience.
Make some time this week and go watch Sachin: A Billion Dreams in a theatre near you!
Image Credit: IMDb.com