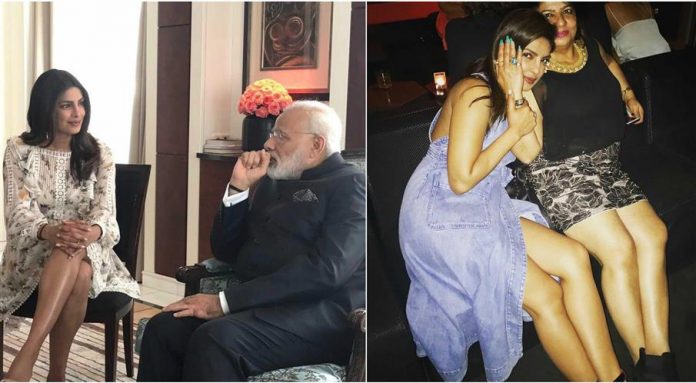 Priyanka Chopra was mocked for her choice of attire while meeting with PM Narendra Modi in Berlin
International phenomenon Priyanka Chopra is shutting down the haters one by one with witty replies. The Baywatch star was ecstatic upon meeting up with PM Narendra Modi in Berlin. While the Indian Prime Minister is in closed door sessions with top European politicians, the actress is currently promoting her beach movie. PeeCee posted a number of images of her with the Prime Minister. Instead of being positive about the situation, a number of internet trolls began shaming her for showing her legs and sitting in a particular manner in front of the PM.
Some of the comments by these trolls were: "Atleast wear decent clothes in front of Elders…And when He is the PM of India,you should not forget the Indian culture.." (sic)
Another troll said: "Most fake actress in Bollywood. Tried to speak in fake American accent in some of the talk shows. Total firang chamchi. And pls understand people hardly know you in Hollywood. U cuud never belong to that league where u were in Bollywood. U can never be a Julia Roberts or a Angelina Jolie. And trust if u don't come back to your roots Bollywood will also forget u soon. Remember what happened when u tried to be a global popstar???????? U r just a DESI GIRL n try to remain one." (sic)
Instead of getting salty with the comments being passed around, Priyanka Chopra responded in the most sassiest way, without directly taking aim at her haters. She posted another image to Instagram, showing off her legs with élan. She captioned the image: "Legs for days…. #itsthegenes with @madhuchopra nights out in #Berlin #beingbaywatch" (sic)
This isn't the first time that the Quantico actress has had to deal with random internet trolls. She was mocked for her Ralph Lauren trench coat dress she wore to the Met Gala 2017. From calling it a chapati to saying that it reminded people of the Egyptian desert, the venom just keeps getting spewed.
Attagirl, Priyanka Chopra! An independent woman should be allowed to wear and do what she pleases! We'd love to see more major fashion moments from the star.
Image Credit: Instagram