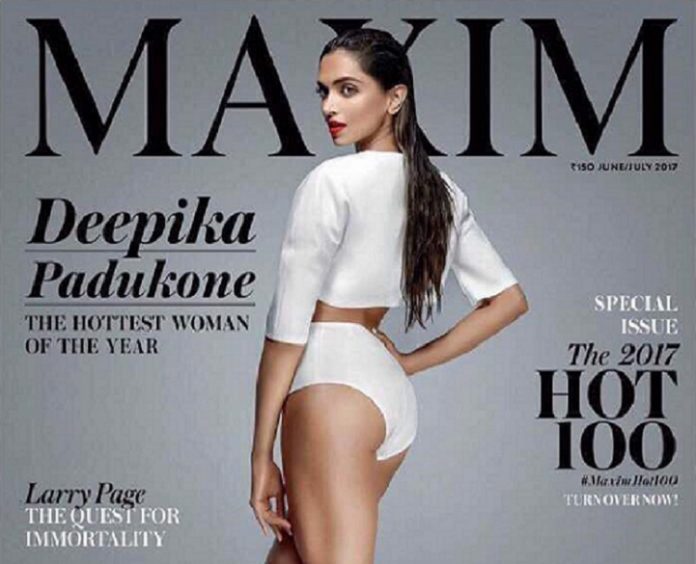 In a poll survey conducted by Maxim India Magazine, Deepika Padukone has been declared the hottest woman in India as she made it to the top of Maxim India Hot 100 2017! Deepika will also be featuring on Maxim India Magazine's June/July 2017 edition's cover page in a sultry white outfit.  She can be seen wearing a white half-sleeved crop top and high waist bikini bottoms. To complete her look, she added black sky-high pumps and red matte lipstick.
Maxim India shared a video from her shoot and captioned it, "Over a million votes later, here's a little sneak peek at our No. 1 on the #MaximHot100! Stick around for more 😉 #MaximIndia #DPForMaxim"
Maxim India has also released an official statement talking about the stunning actress which reads – "The Bollywood transplant made her debut stateside earlier this year in xXx: The Return of Xander Cage, alongside Vin Diesel. She ranks number 10 on Forbes' 2016 list of the world's highest paid actresses." She was described as the scored box office gold by the magazine.
Further, global beauties Priyanka Chopra and Deepika Padukone have also made it to the Maxim 2017 Hot 100 international list along with other international stars including – Emma Watson, Emma Stone, Dakota Johnson and Kendell Jenner!
When compared with Priyanka Chopra, Deepika Padukone said, "Comparisons are obvious because that's in your mind, and that's not in my mind! Sometimes I think we unnecessarily get into this phase of comparison, but I think there shouldn't be."
Deepika Padukone recently walked the red carpet at Cannes Film Festival 2017 on Day 1 and Day 2 as she represented L'Oreal Paris at the festival. Her style and fashion on both days was given a big thumbs up from the international fashion community.
See Deepika Padukone's Cannes Film Festival 2017 journey with all her looks! 
On the work front, Deepika is currently busy shooting for Sanjay Leela Bhansali's Padmavati. The movie also stars Shahid Kapoor and Ranveer Singh and is expected to release on November 17, 2017.
Also read – Deepika shoots climax jauhar scene with 300 artists for Padmavati
Don't forget to check out Maxim's exclusive video of Deepika Padukone's cover shoot –
Over a million votes later, here's a little sneak peek at our No. 1 on the #MaximHot100! Stick around for more 😉#MaximIndia #DPForMaxim pic.twitter.com/Ut9EPpDvKM

— Maxim India (@MaximIndia) May 31, 2017
Picture Credits – Deepika Padukone's official Instagram page