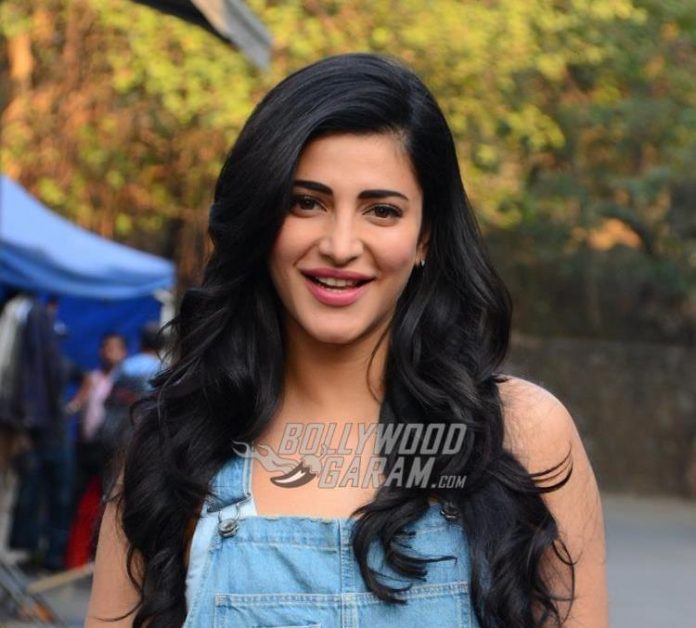 Actress Shruti Haasan, who made news for her appearance in Cannes Film Festival 2017 for the promotion of her upcoming film Sanghamitra has now backed out of the film! After a week long appearance at Cannes 2017, several press meetings and official character poster launch – Shruti has backed out of the trilingual magnum opus. Shruti launched the first look of Sanghamitra at Cannes 2017 along with the entire star cast, Director Sundar C and music director A R Rahman.
Shruti's spokesperson on behalf of her stated that "Shruti has, unfortunately, had to take a call not to be part of Sangamithra. Knowing it was a massive undertaking and a long commitment spanning over two years, she knew the importance of her training, a comprehensive script and proper date calendar."
Shruti had also started the combat training for her warrior princess' role in the film. The story of the film is based in the 8th century AD. It is the tale of the Sanghamitra, who goes through her journey of saving her kingdom.
The spokesperson further added, "Despite her enthusiasm and commitment to Sanghamitra, she has had to give the film a miss since she had not received a proper bound script nor a proper date calendar."
In a recent interview with PTI, the actress had talked about her role in Sanghamitra, She said, "The role is physically very demanding for me. It is challenging, something that I have never done before. It is a fantasy epic film and it has a lot of layers."
The post on the official Twitter page of Sri Thenandal Films read, "Due to unavoidable circumstances, we are unable to proceed working with Shruti Haasan in Sanghamitra."
See first look of Sanghamitra and Shruti Haasan from Cannes Film Festival 2017
Currently, the 31-year-old actress is busy promoting her film, Behen Hogi Teri in which she stars opposite, Rajkumar Rao. Behen Hogi Teri releases on June 9, 2017. Apart from this, Shruti is also preparing for Sabash Naidu and her other musical associations.
Picture Credits – Viral Bhayani