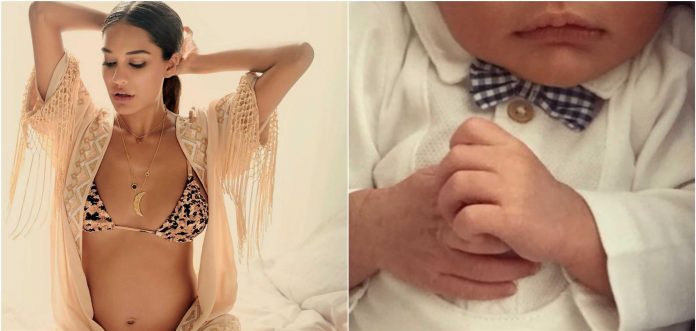 Lisa Haydon and husband Dino Lalvani welcomed their son, Zack Lalvani in May
Queen actress and supermodel Lisa Haydon has become a mother! The star showed off her new born son through her official Instagram account. The first photograph she released shows her holding her bundle of joy and she captioned the image: "Zack Lalvani born 17th May 2017." She later shared another image of her weeks old baby in a white cardigan and blue bow tie, captioning that image: "all my heart".
Lisa Haydon married her partner, Dino Lalwani back in October 2016. Soon, she announced her pregnancy and has posted numerous images of her pregnant belly through her social media account for her thousands of followers. She is usually extremely coy about her private life, and did not divulge a lot of information while she was expecting her first child. It's obvious she is thrilled about the addition to her gorgeous family, and baby Zack is adorable as ever!
In the past few months, a number of Bollywood celebs have welcomed their babies to the world. However, they are extremely reluctant to show their faces to the media, mostly for superstitious reasons. Stars like Karan Johar and Kareena Kapoor Khan have kept their new borns away from the prying eye of the paparazzi. We are yet to see what the Student Of The Year filmmaker's twins, Yash and Roohi look like. However, Kareena's son Taimur Ali Khan had his leaked photograph all over the internet when he was still just a few months old.
Lisa Haydon has broken that trend, however, sharing pictures of Zack on social media while he is just a few weeks old. The new parents look absolutely loved up with their bundle of joy. The Trip host announced her pregnancy through an Instagram image back in January 2017 while on a trip to the beach.
Image Credits – Instagram