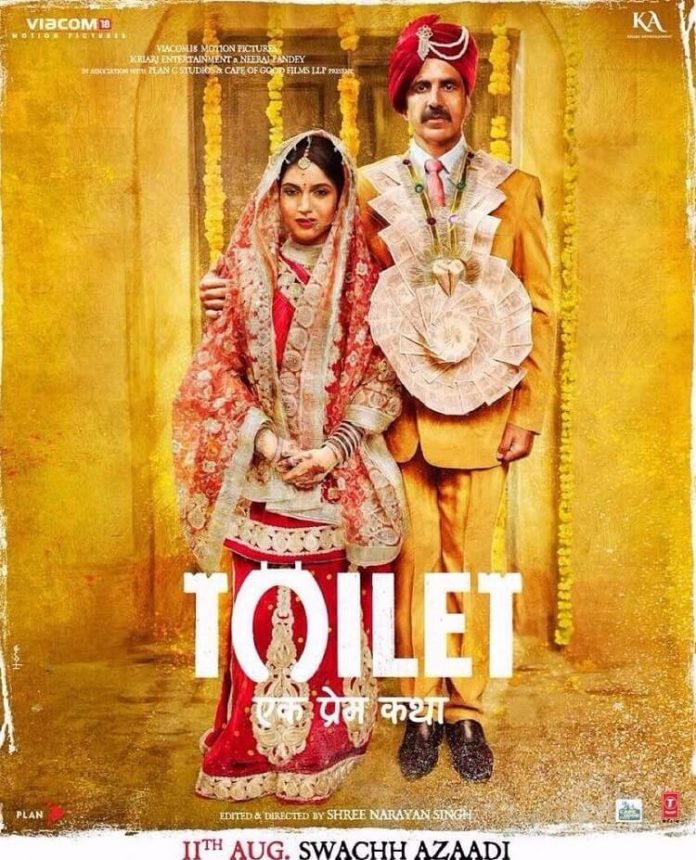 Akshay Kumar and Bhumi Pednekar starrer, Toilet Ek Prem Katha trailer released on June 11, 2017. The trailer has received a lot of praises since it's release. The movie is based on the sanitation problems in India. It spreads awareness about the construction of toilets in villages.
Toilet Ek Prem Katha is the story of Keshav (Akshay Kumar) who wants to get married. His family marries him to a buffalo because he is a maanglik. Later, he finds the love of his life, Jaya (Bhumi Pednekar) and marries her. After marriage, Jaya is asked to join the lota party by the other women of the house. She refuses to go out in open and asks Keshav to construct a toilet in the house. The difficulty arises when Keshav tries to fight against the village and make a toilet in his house. And the battle against open defecation begins. Akshay is seen going to ministers and court asking for help to build a toilet in the village.
The film also shows different kinds of superstitions followed in villages of India. Like, if the boy is maanglik, he is married to a buffalo and where there is tulsi in the house, they can't build a toilet in the same house.
Inspired by PM Narendra Modi's Swacch Bharat Abhiyan, Toilet Ek Prem Katha received lots of comments on social media by Bollywood celebrities and fans.
Karan Johar commented on Twitter, "Super Trailer Akshay!! Can't wait to watch this exceptionally relevant and entertaining film!!!!! #ToiletEkPremKathaTrailer"
Anil Kapoor also wrote, "Voicing an important issue in a heartwarming & eye opening way! Kudos."
John Abraham, Ayushmann Khurana, Huma Qureshi, Athiya Shetty and many more celebrities have shared their feelings about the trailer on Twitter.
Toilet Ek Prem Katha also stars Anupam Kher, Divyendu Sharma, and Sudhir Pandey. Directed by Shree Narayan Singh, the film is slated to release on August 11, 2017.
Watch the trailer of Toilet Ek Prem Katha –
Super trailer akshay!! Can't wait to watch this exceptionally relevant and entertaining film!!!!! #ToiletEkPremKathaTrailer https://t.co/S0bHwm5Edx

— Karan Johar (@karanjohar) June 11, 2017
Voicing an important issue in a heartwarming & eye opening way! Kudos @kriarj @akshaykumar #ToiletEkPremKathaTrailer https://t.co/15WVGqUJtp

— Anil Kapoor (@AnilKapoor) June 11, 2017
Here's wishing all the best to my co-producers of #Parmanu @kriarj & my friend @akshaykumar on their new venture!! #ToiletEkPremKatha pic.twitter.com/qi07Eg9cn0

— John Abraham (@TheJohnAbraham) June 11, 2017
What a smashing trailer !! Woo hooo … love it @akshaykumar @psbhumi ❤❤ https://t.co/4wqaocWwWN

— Huma Qureshi (@humasqureshi) June 11, 2017
Yeh #Toilet bahut zor se aayegi! Waaaah??✌️ https://t.co/BwVgdyAdkz

— Ayushmann Khurrana (@ayushmannk) June 11, 2017
This one looks really special. Congratulations to the entire team @akshaykumar sir, @psbhumi and @kriarj ??⭐️ https://t.co/1rQldNxQ9H

— Athiya Shetty (@theathiyashetty) June 11, 2017
What an amazing concept, glad it's this. Goodluck for this @akshaykumar @kriarj @psbhumi https://t.co/yZqGa2fW6M

— Esha Gupta (@eshagupta2811) June 11, 2017
Picture Credits: Instagram