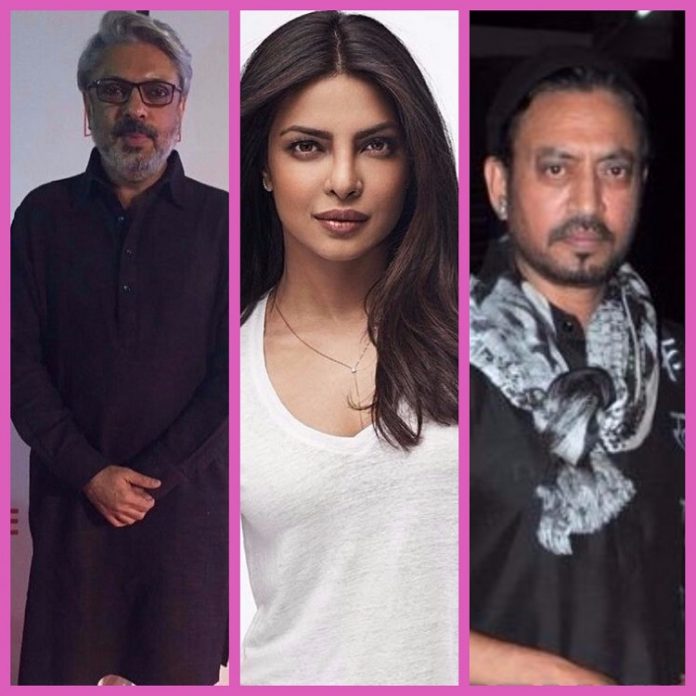 Discarding all rumors, Priyanka Chopra and Irrfan Khan are confirmed for Gustakhiyan. Gustakhiyan will be about the legendary poet-lyricist Sahir Ludhianvi and his lover author, Amrita Pritam.
A source close to Gustakhiyan says, "Irrfan has been on board from the start. He was our first choice and he remains our only choice to play Sahir Ludhianvi."
Priyanka Chopra was also finalized but there were rumors about her confirmation too. But finally, Sanjay Leela Bhansali has made up his mind to cast her for this particular film.
The source also added, "With her smoldering sensuality, outgoing personality and husky diction, Priyanka is the perfect fit for Amrita Pritam,"
Gustakhiyan will be directed by Jasmeet Reen. The film will revolve around the relationship of Sahir Ludhianvi and author Amrita Pritam. Their relationship lasted 40 long years. At first, Bhansali was planning to sign his Padmavati Queen, Deepika for Amrita's role in the film but he felt Priyanka's personality would suit the role better. As for the role of Sahir, Irrfan was Sanjay's first choice. According to the reports, Sanjay will also direct the film along with debutante Jasmeet Reen.
Picture Credits: Instagram and Viral Bhayani