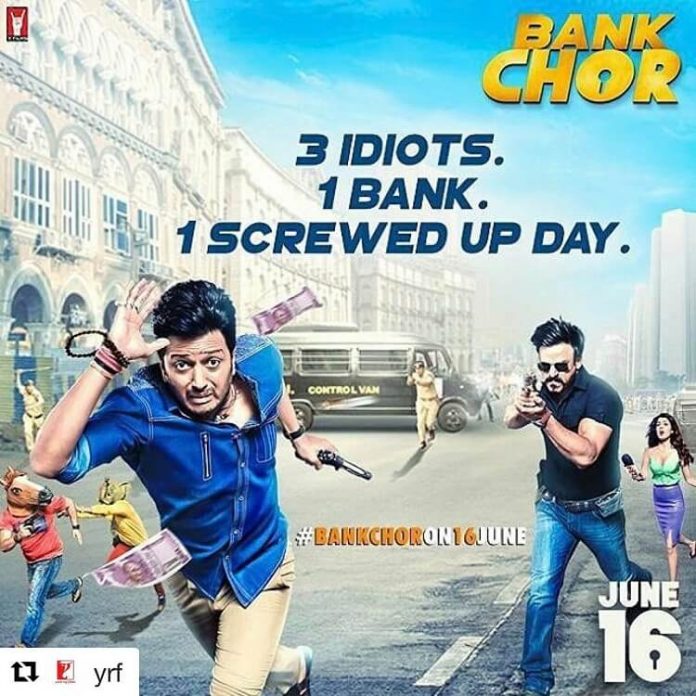 Movie name – Bank Chor
Director – Bumpy
Cast – Riteish Deshmukh, Vivek Oberoi, Rhea Chakraborty, Bhuvan Arora, Vikram Thapa
Bollywood Garam rating –  1/5
Bank Chor was supposed to be a comic one but has actually turned out to be a comic-thriller. At first, the production house Y-Films was going to cast Kapil Sharma in the lead ole, but faced a fallout with him and replaced him with Riteish Deshmukh.
The movie is about three robbers, Champak (Riteish), Gulaab (Bhuvan Arora) and Genda (Vikram Thapa). They plan to rob a bank but it turns out that they chose the wrong bank on the wrong day for and thus get caught amidst a big scam!
The film does not seem to entertain the audience. The story is completely bruised. The background characters also seem to be insane. The entire group of hostages helps the robbers, which sounds weird. How can people not be worried about themselves and instead help the robbers? Eventually, they all end up harming each other in an effort to help.
Vivek Oberoi plays the role of an honest and smart CBI officer. He carries two pistols and a whiskey bottle with him. Rhea Chakraborty is a reporter who has not much to do in the story. The robber trio keep arguing about Delhi Vs Mumbai since Champak is a Marathi and Gulaab and Genda are from Delhi.
While there are some brainy twists in the plot, the thrill doesn't last long and impudent references to the Dhoom series towards the end kill the glamor of the film.
Photos – Bollywood celebrities at Bank Chor movie premiere
 Picture Credits: Official Instagram Account of Vivek Oberoi