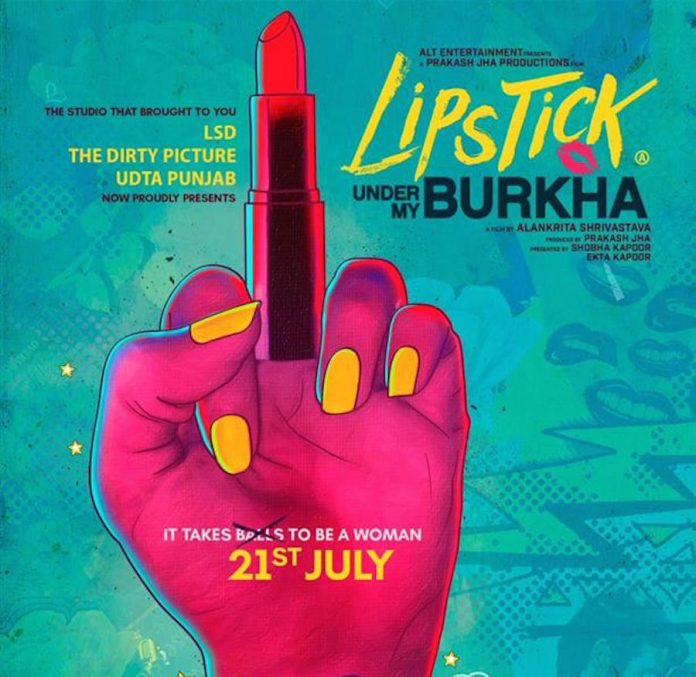 Movie – Lipstick Under My Burkha
Director – Alankrita Shrivastava
Cast – Konkona Sen Sharma, Ratna Pathak Shah, Aahana Kumra, Plabita Borthakur, Sushant Singh Rajput, Shashank Arora, Vikrant Massey and Vaibhav Tatwawaadi
Bollywood Garam Rating – 4.5/5
Director Alankrita Shrivastava's Lipstick Under My Burkha has faced a long and complicated battle with the Indian Censor Board since its completion in 2016. It was denied certification by Pahlaj Nihalani's CBFC, who claimed that the film was too 'lady oriented' in a baffling decision that reflected their regressive attitude. Fortunately, the filmmakers took the fight to the Film Certificate Appellate Tribunal (FCAT), who ordered the CBFC to grant the feminist dramedy an Adult (A) certificate. Meanwhile, the film has played successfully to international audiences and racked up a number of awards for its bold and honest exploration of female sexuality.
See photos of entire star cast from Lipstick Under My Burkha trailer release
Starring Konkona Sen Sharma, Ratna Pathak Shah, Aahana Kumra and Plabita Borthakur, Lipstick Under My Burkha chronicles the secret lives of four women who are forced by societal convention to suppress their personal freedom. Not all the characters are muslim or wear a burkha as the title suggests, but the metaphor holds true as they are all struggling to liberate themselves from an overbearing patriarchy that seeks to control their lives. Ranging in ages from 18 to 55, the women portrayed in the movie represent a broad cross-section of society in the crowded lanes of small-town Bhopal. Stifled and trapped in their claustrophobic worlds, they reclaim their desires through small, courageous acts which are full of rebellious stealth.
Konkona Sen Sharma's Shirin is a young, endearing mother of three, whose husband works abroad in Saudi Arabia. She is deprived of a career by her domineering spouse, who only visits her for a few days in a year. She endures her loveless marriage, but is bold and enterprising enough to moonlight successfully as a door-to-door saleswoman behind her husband's back.
Newcomer Plabita Borthakur plays the role of Rehana, a college freshman who is the daughter of a strict, orthodox muslim couple. Repressed and deprived of the 'forbidden' lifestyle she pines for, she discovers the world of fashion, music, parties and boys, which she secretively hides from her parents. Young and vulnerable as she is though, she soon falls prey to the excesses of peer pressure and youth culture.
The most feisty character of the lot is that of Leela, played by Aahana Kumra. A beautician by trade, she is engaged to be married to an upstanding Hindu boy chosen by her mother. At the same time though, she involves herself in a sensual relationship with her muslim photographer boyfriend, which includes several raunchy sex scenes in which she takes charge.
Lastly, veteran actress Ratna Pathak Shah delivers brilliantly as the middle-aged widow Usha, in a hilarious, multi-layered performance. She lives vicariously through a character called Rosy, who features in erotic fiction novels that she is addicted to. Usha develops a crush on a young swimming instructor, and secretly engages in some steamy phone sex with him until she gets found out.
Writer and director Alankrita Shrivastava deals with the delicate subject matter expertly, taking the story to a bitter but fulfilling climax that thankfully doesn't include a fairy-tale Bollywood ending. The revolutionary characters are all well fleshed out and excellently embodied by the actors playing them. Cinematographer Akshay Singh uses a colorful palette to skillfully illuminate the leading ladies against a conservative backdrop.
Lipstick Under My Burkha is an immensely important film in Indian cinema, which finally allows female characters to break free from the shackles they have long been held back by. Audiences in India will be able to watch the movie when it releases next month on July 21st, 2017.
Also read – Feminist Ekta Kapoor defends the poster of Lipstick Under My Burkha
Until then, watch the official Lipstick Under My Burkha trailer –