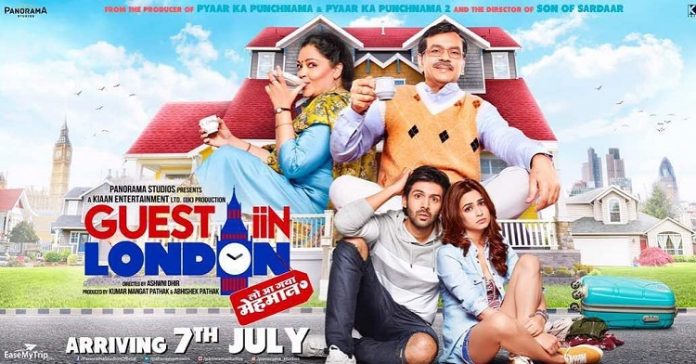 Movie – Guest Iin London
Director – Ashwni Dhar
Cast – Kartik Aaryan, Paresh Rawal, Tanvi Azmi, Kriti Kharbanda, Lucinda Nicholas
Bollywood Garam Rating – 2/5
Ashwni Dhar's Guest Iin London is simply a remake of Athithi Tum Kab Jaoge, but fails to have the same impact as original movie did. It just has more jokes and puns on farts than Athithi Tum Kab Jaoge. In fact, Paresh Rawal even sings a song on the fart. The movie didn't do well as expected. The comedy was hilarious. It was expected to be a good comedy-drama but it turned out to be disappointing.
Aaryan Grover (Kartik Aaryan) lives in London. He is staging a fake marriage with Ananya Patel (Kriti Kharbanda) to get permanent citizenship in England. This is when Gangasharan Gandotra aka Chacha Jee (Paresh Rawal) and his wife (Tanvi Azmi) make their entry at Aaryan's house as a guest and makes things difficult for him. Later, Aaryan finds out Chacha Jee's secret which changes his life forever.
Every scene of the entire movie is based on three things: farting, women belong in the kitchen and all Pakistanis are thieves. Most of the jokes in the movie come under one of these categories.
The music of Guest Iin London has been composed by Raghav Sachar, Amit Mishra, and Amar Mohile. Produced by Panorama Studios and distributed by Viacom 18 Motion Pictures, the film releases on July 7, 2017.
Also Read –
Photos – Kartik Aaryan and Kriti Kharbanda promote Guest Iin London in style!
Karthik Aaryan, Kriti Kharbanda and Paresh Rawal promote Guest Iin London