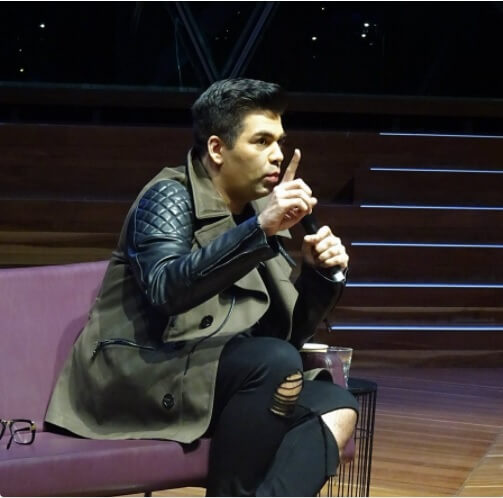 Karan Johar lands himself in controversies in close succession of each other. This time it is in Melbourne and he is accused of 'another takeover'.
Bollywood filmmaker Karan Johar was recently in news over bringing back a controversial issue at the IIFA awards last month where he was found chanting 'Nepotism rocks' in a spate of jibes that he took along with other star kids, Varun Dhawan and Saif Ali Khan at Kangana Ranaut and her clear reprehension of Johar's alleged belief and practice of nepotism in the Hindi film industry. Her scandalous statement in Johar's talk show, Koffee with Karan where she accused him of being the harbinger of nepotism in Bollywood was what was being targeted and ridiculed in the absence of Ranaut.
A couple of days later, Johar has found himself in the middle of another controversy again at another award ceremony. This time it was his unabashed want that he expressed to the director at the Indian Film Festival of Melbourne that has made him the target of yet another social media troll series. Johar reportedly expressed his desire to host the festival's finale next year and the host for this year's cerermony, veteran actress and chat show, Rendevous with Simi Garewal's host, Simi Garewal has taken to Twitter to state how she feels about Johar's statement.
After I finished hosting IFFM Awards @karanjohar told Festival Director 'Next year I want to host the awards'! Another takeover?!?

— Simi Garewal (@Simi_Garewal) August 15, 2017
By 'another takeover', Garewal is clearly pinpointing at Johar's previous successful attempt at hosting his own talk show, Koffee with Karan right after Rendevous ended in 2005. Since then Johar's talk show has completed five seasons and is based on the same model as that of Garewal's – interviewing celebrities by inviting them to the show and making them talk about or rather reveal juicy details and make confessions that sometimes they themselves would have not expected to be a part of.
Of course this @Westpac award goes to @karanjohar ! pic.twitter.com/ZlVMd4nsfr

— #IFFM (@IFFMelb) August 11, 2017
While Johar was honoured with 'Leadership in Cinema Award' at the festival and was hugely appreciated by the organizers there, the trolls back home have already begun showering their hatred on Johar and supporting Garewal by saying that none can take her place and there arises "no question of a takeover."
Ma'am, you are the best You are unique. So the question of takeover does not arise. Lots of love and respect for your elegance and grace?

— yoshita sharma (@yoshitalovelife) August 15, 2017
The festival, meanwhile played host to Bollywood biggies like Aishwarya Rai Bachchan, Shoojit Sircar, Konkona Sen Sharma, director Nitesh Tiwari of Dangal fame, Sushant Singh Rajput, Rahul Bose and Rajkummar Rao among a few.
Photo Credits: Twitter