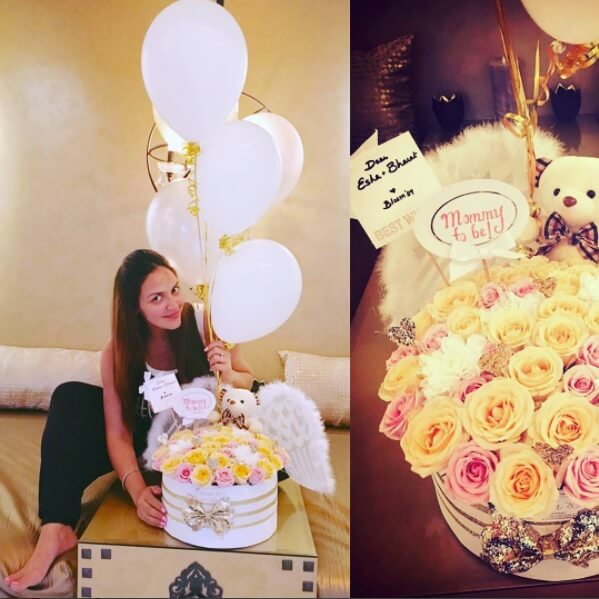 Esha Deol will remarry her husband, Bharat Takhtani in a private ceremony on the occasion of her baby shower on August 24, 2017.
Five years back the couple got married in a private ceremony at the Iskon temple in Mumbai. Now that the couple is expecting their first baby and are soon to have their baby shower, they have planned on getting married again. The duo, Esha Deol and her husband, Bharat Takhtani will reportedly have a second marriage with each other on the day of mum-to-be Deol's baby shower – August 24, 2017.
Deol has acted in movies such as Dhoom, Na Tum Jano Na Hum, Yuva, Ankahee and others while Takhtani is a successful businessman.
The actress will reportedly enter the third semester of her pregnancy and is hence celebrating with a baby shower. The second marriage to her husband is reportedly a traditional Sindhi custom and since Deol is married to a Sindhi family, the couple will be taking three pheras instead of seven (according to a Hindu marriage ceremony). Mehndi rituals with singing and dancing on folk songs will also be a part of the second marriage and baby shower ceremony. Pune Mirror quoted Deol saying, "This time it's a Sindhi priest who speaks Hindi too, so my in-laws will at least understand what is being said."
As reported a couple of days back, Deol was snapped at Neeta Lulla designer store shopping for her baby shower ceremony, so both Deol and Takhtani's marriage outfits will be designed by the ace designer who had also designed their outfits the first time around. The ceremony will only witness few close friends and family members.
About her marriage to Takhtani for the last five years, Deol told the daily, "Over the last five years, Bharat and I have become as thick as thieves. Since I am pregnant, I am prone to mood swings now but he has tolerated them and is extremely protective. He is also my best critic, encouraging me in everything I do. At the risk of sounding filmi, I will say I wouldn't want to change anything. Life is beautiful!"
Deol also recently took to Instagram to share a glimpse of how her Anarkali that she will be donning on the day of the baby shower.
She has also often shared pictures of her baby bump with friends, family and husband on social media and has received the love and adulation from her fans and followers.
See pics from Esha Deol flaunting her baby bump with friend Chef Chinu
Acknowledging this affection through a recent video on Instagram, she had thanked everyone for their love and blessings to her and her husband for the new phase in their lives.
Photo credits: Instagram