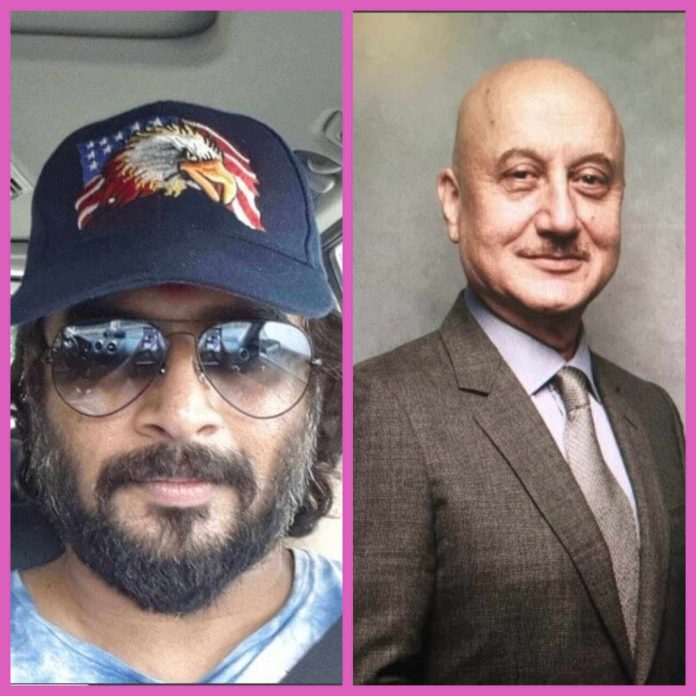 Bollywood prays for the safety of Mumbaikars as Mumbai rains forces its grip and does not let the celebrities have it easy either.
August 29, 2017 was a fateful day in Mumbai's history. After having witnessed bomb blasts, terrorist attacks and flooding in the past, the city still braved up against another massive rainfall episode on Tuesday. The intermittent showers that were billowed on the streets did not even spare the Bollywood celebrities. Public transport including local train services and flight schedules were interrupted and the entire city came to a standstill on the streets as the Mumbai rains disaster kept on aggravating throughout the day where even a high tide attacking the city at around 4:30 p.m was reported.
As heavy gridlocks, road blockades, power outages and water-logging tightened their grip on the financial capital, veteran actor Anupam Kher and actor R Madhavan too got stranded in their cars and couldn't help but share videos of the precarious conditions they were in.
Kher took to Twitter to express how his friend and his daughter had come to the actor's rescue while the city was facing a disastrous situation.
My car got stuck in heavy rains. Called a friend. He & his daughter came to my rescue. Now I am in his house. ?#StaySafe #HelpfulMumbai pic.twitter.com/YIoMcvwojb

— Anupam Kher (@AnupamPkher) August 29, 2017
Kher's views amid these torrential Mumbai rains have resonated with the entire city as he posted, "There is NO city in the world like #Mumbai when it comes to human bonding and resilience at the time of crisis. We see that again and again."
There is NO city in the world like #Mumbai when it comes to Human Bonding & Resilience at the time of crises. We see that again & again.?

— Anupam Kher (@AnupamPkher) August 29, 2017
In this time of distress and panic, locals came to the aid for those stuck in traffic amid this rare-to-be-seen downpour. Kher's message on bonding and resilience just proves it further that Mumbai has what it takes to brace up against difficult situations like that of Tuesday's.
R Madhavan too could not escape the havoc of being stuck in floods as his car had a breakdown and he had to walk his way through the muddy rain waters.
Traffic snarls, trees falling midway and floods gushing through the doors and windows of the houses were a common sight on Tuesday and more Bollywood celebrities expressed their issues with the colossal rainfalls as they either had to drive their way through the excessively slow-moving traffic for long hours or even had to walk through thigh-deep waters where they could not even see the roads ahead.
Left worli at 2.. still at santa cruz at 5.. n contrary to rumours sea link was fully functional pic.twitter.com/36QP1ecF8T

— Farah Khan (@TheFarahKhan) August 29, 2017
Was stuck for 3 hours on the highway ..saw so many people help each other out !! that's my #Mumbai ?hope everyone is safe .. now I'm off ✈️ pic.twitter.com/JvsuQ9zm6o

— Huma Qureshi (@humasqureshi) August 29, 2017
Citizens stranded are most welcome to come for shelter at the Dadar Parsee Colony Gymkhana.
Contact Sheroy 9833445536 or Zenobia 9820021357

— Boman Irani (@bomanirani) August 29, 2017
It becomes clearer with Boman Irani's generous tweet what Kher meant by Mumbai coming together in a time of crisis.
While Mumbai is recovering from the massive floods even as some areas still experience heavy showers, the weather experts have advised staying indoors unless going out is absolutely necessary. Many were reminded of the 2005 havoc in the city which unfolded in a similar way, just with more power and severity. Meanwhile, humor and prayers have kept making their way through the heavy winds and continuous showers, keeping the city strong and on its feet.
Putting our Wimbledon,US Open, Aus Open &French Open towels to good use!?@Maheshbhupathi #MumbaiRain.Stay safe & indoors if possible folks!? pic.twitter.com/uEV30SPfT5

— Lara Dutta Bhupathi (@LaraDutta) August 29, 2017
Happy National Sports Day.
Today's sport of choice is swimming. Enjoy! #MumbaiRains

— Abhishek Bachchan (@juniorbachchan) August 29, 2017
BMC helpline 1916. Police Helpline 100..Home is the safest.. for most. Find shelter and give shelter. Be safe Mumbai #mumbairains

— PRIYANKA (@priyankachopra) August 29, 2017