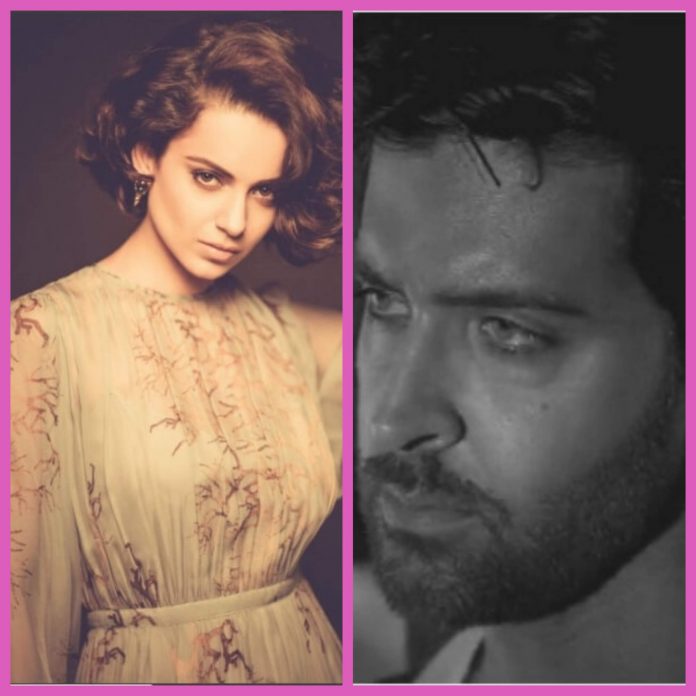 Kangana Ranaut demanded an apology from Hrithik Roshan in a recent interview for causing her emotional and mental trauma during their public spat.
Bollywood is home to many on-screen and off-screen friendships, animosities, cold wars and even frenemies. But something that has by far always been a part of Bollywood are its controversies – rumors, scandals and allegations. One such big controversy that kept getting worse with time was the spat between Kangana Ranaut and Hrithik Roshan that grew up to be so massive that both the actors sent legal notices and counter-notices to each other, released scandalous emails that Ranaut claimed of having sent to Roshan, while the latter claimed that the email ID those letters had been sent to were not his. Roshan had gone as far to allege that Ranaut had been suffering from Asperger's syndrome and denied having had any relationships with the Queen actress in the past.
The Ranaut-Roshan row in 2016 had probably been the most googled subject in 2016 even though there was no public confirmation or discussion regarding the allegations by Roshan himself. However, Ranaut known for not mincing her words, has been recurrently vocal about the controversy and her allegations on Roshan.
Ranaut started this sensational controversy by saying, "Yes, many lame rumours are doing the rounds, even a dumb ass can tell where these rumours are coming from. I don't know why exes do silly things to get your attention. For me that chapter is over and I don't dig graves". But contrary to her statement, she has indeed dug up graves this time and brought the issue to limelight once again. In an interview with a popular TV show on a Hindi News channel, Aap ki Adaalat with Rajat Sharma, Ranaut has reportedly accused Roshan of causing her "immense humiliation" and "emotional and mental trauma" for which she demanded an apology from her Krrish 3 and Kites co-actor.
Sharma took to Twitter to release a teaser video of the interview where Ranaut could be heard telling the host Rajat Sharma to bring Roshan to the show to ask him questions about sending her the legal notice, further adding that she could not sleep at night and would often cry at nights causing her stress, mental and emotional trauma as people still search for those emails online and derive pleasure by reading them. She maintained her demand for Roshan's apology for his misbehavior and the dirty fight that happened between the two which scarred her public image and caused her the trauma.
'I want @iHrithik's apology for causing mental trauma', #KanganaRanaut told me in #AapKiAdalat Sat, Sept 2 at 10 pm @indiatvnews pic.twitter.com/6SQBW2v1po

— Rajat Sharma (@RajatSharmaLive) August 30, 2017
A lot had transpired during and after this ultimate showdown where people doubted that the two might have had an affair during their shooting for Krrish 3. Eventually, Roshan got separated from his wife, Susanne Khan though the two have not disclosed any reason for the split.
The unveiling of the entire video would be highly intriguing and might even go viral after its release, given the dramatic momentum this row has gained over time and also because it has been some time since the squabble was fresh among people. Not to mention the expected reactions from Roshan after the episode is aired!
Speaking of intrigue, the promo video comes a few days before the release of Ranaut's upcoming movie, Simran.
See pictures from Kangana Ranaut's movie Simran's trailer launch event