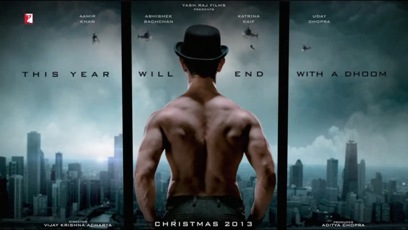 The long wait is finally over, as the makers of 'Dhoom3' have launched the first look of the movie, in the form of a motion poster. The video released is not a trailer, but simply a teaser which revealed the actual look of Aamir Khan in the highly-anticipated flick.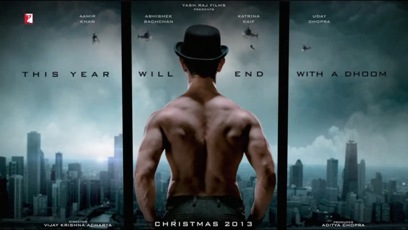 The 56-seconds-long video clip starts off with stormy sky and skyscrapers, helicopters in the air and all this is being watched by a man standing topless behind a glass window. The face of the man is not visible, but he seems to be resembling Aamir Khan.
The short teaser shows a well-toned body, which was earlier flaunted in the Bollywood flick 'Ghajini'. The man in the video is seen wearing a pair of trousers, with nothing on the top and a hat. The upcoming movie is scheduled to be released during Christmas, which has always been a good time for Aamir Khan's movies. The motion poster ends with the statement '"This year will end with a Dhoom".
In the movie, the 48-year-old actor will be seen playing the role of an antagonist. This is the third installment of the 'Dhoom' series, which so far released two movies. In the previous movies, John Abraham and Hrithik Roshan were seen playing the baddies.
Photo Credits: Stay Tuned