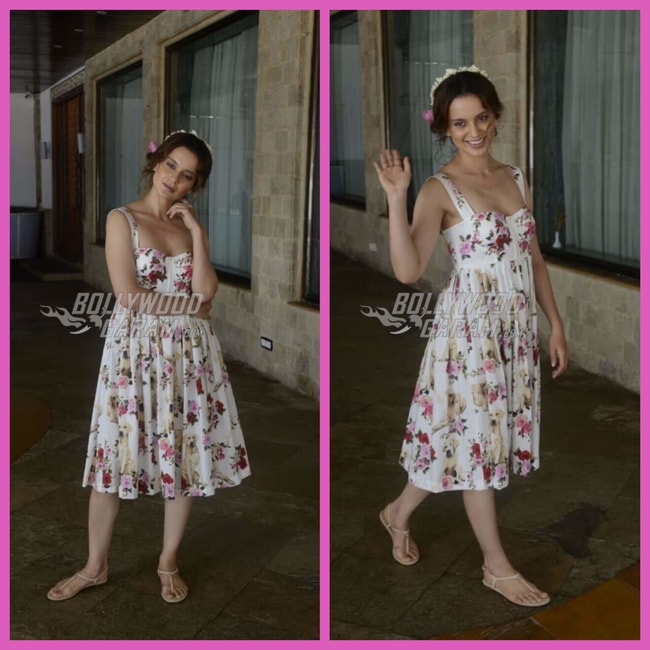 Kangana Ranaut looked pretty and elegant in a printed white floral dress while promoting her upcoming movie, Simran
National award-winning Bollywood actress, Kangana Ranaut has been really busy off late with the promotions of her upcoming movie, Simran that will hit the theatres on September 15, 2017 where she plays a kleptomaniac working as a housekeeping staff in the United States originally belonging to Gujarat in India.
On September 9, 2017, Kangana was again snapped in a pretty floral dress, flat footwear and pink lips while on her Simran promotions. The printed dress beautifully accentuated her figure as she looked suave and stylish posing for the cameras. The Queen actress completed her look with a matching white tiara and a pink rose put to one end of her hair tied in a bun. She was seen smiling and waving at the shutterbugs and looked pretty in minimal accessories. The Tanu Weds Manu star sure knows how to keep it simple and elegant at the same time!
Exclusive photos of Kangana Ranaut during Simran promotions!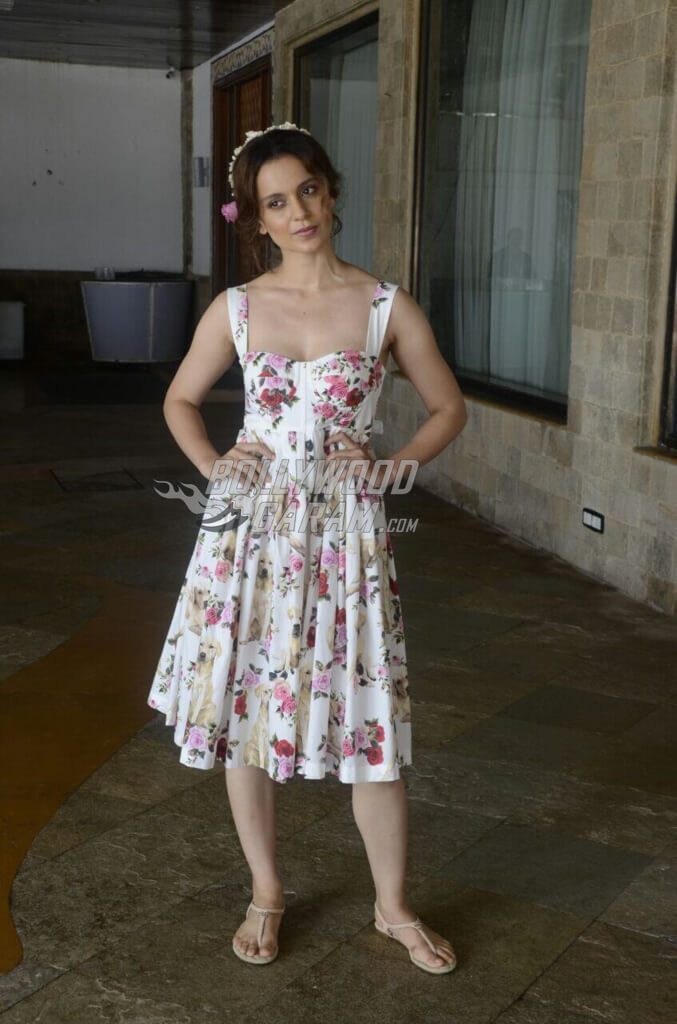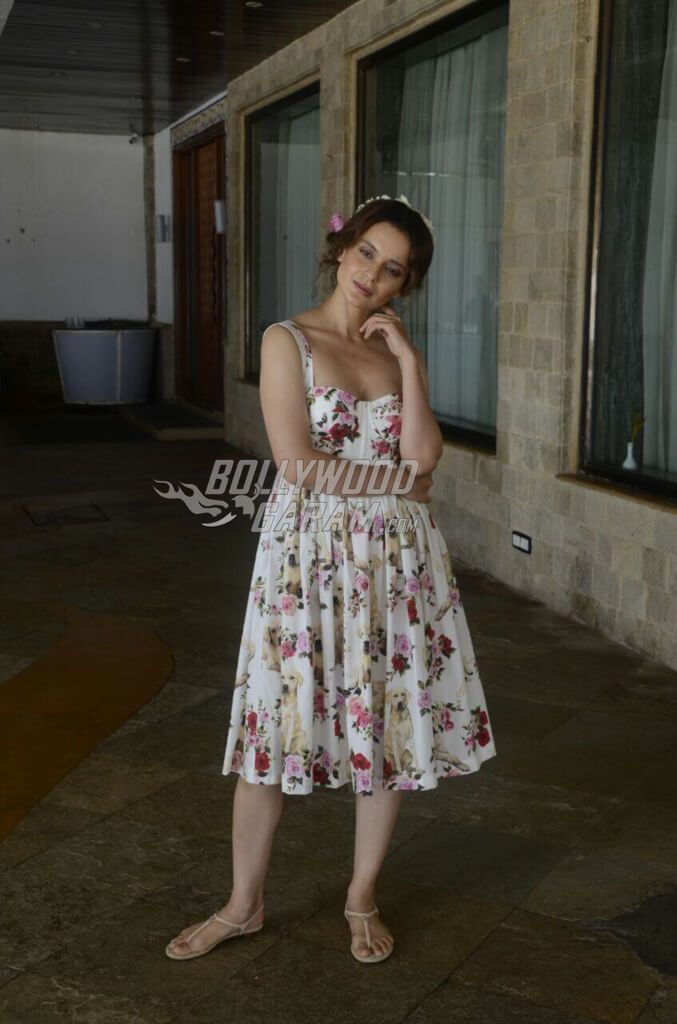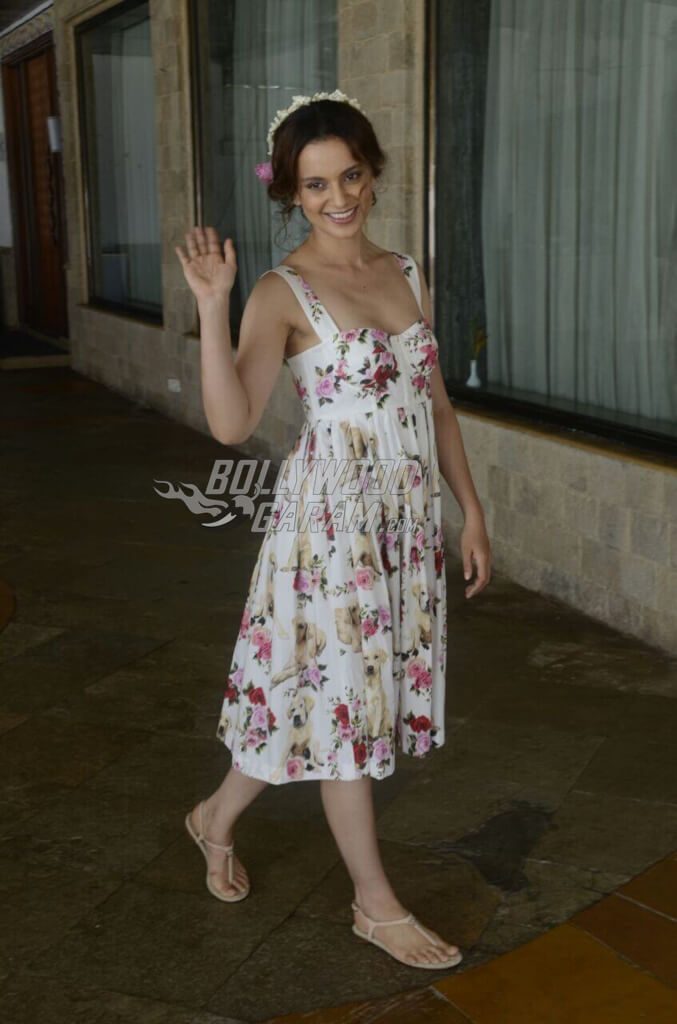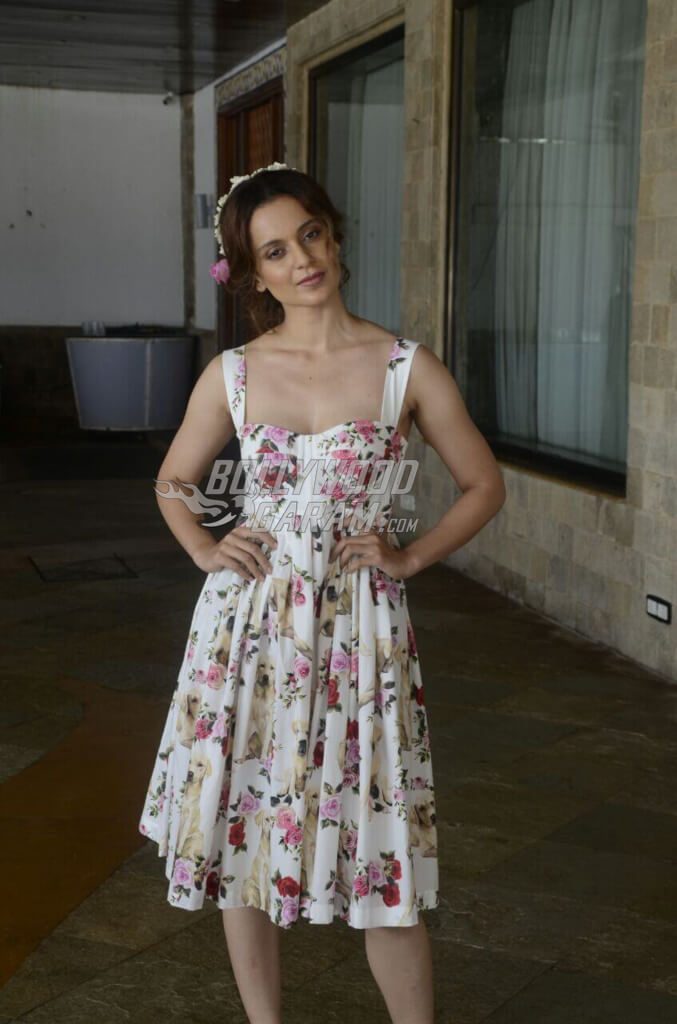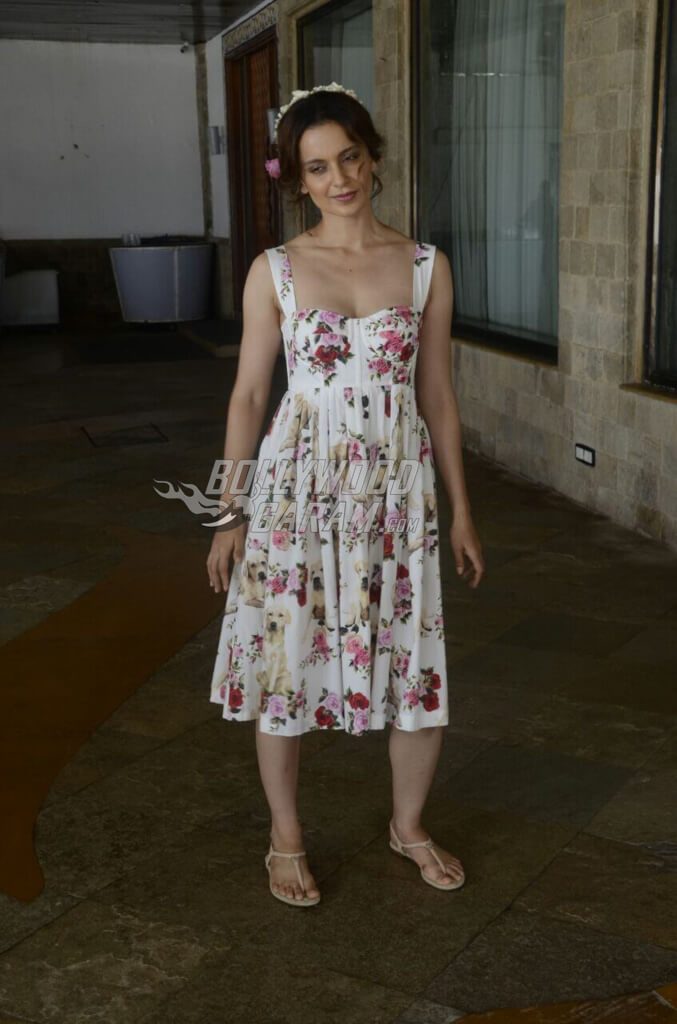 However, it is not only Kangana's upcoming film releases, promotional events and tours and fashion trends that are in the news – she has been quite the internet star lately over her public scuffle with actor Hrithik Roshan that has seen the actors slap legal notices and counter-notices on each other, make allegations and apology demands, reveal scandalous details over their alleged past relationship or the lack of it and brought the Roshan family in a negative light over these allegations. Kangana even went on to say in a recent interview on a popular TV show that Hrithik had been harassing and stalking her and when she complained to his father, Rakesh Roshan about his son's behavior, she was promised a meeting with Hrithik which never happened.
Most recently, Kangana's sister, Rangoli Chandel has taken a dig at Aditya Pancholi and his wife Zarina Wahab, whom Kangana alleged in the same interview to have turned her down when she claimed to have asked for Zarina's help in saving her from the alleged affair with Aditya. Kangana claimed in the TV show that Zarina had said, "it was a relief for all of them in their house that Aditya no longer came home".
Now Aditya and his wife Zarina are reportedly planning to sue Kangana over her allegations and Zarina even refuted and ridiculed Kangana's allegations. In a series of tweets, however, Rangoli has slammed Zarina on her alleged inability to protect the then minor Kangana from Aditya's exploitation.
Sana Pancholi is born in 1985 Kangana Ranaut is brn in 1987 do u hv shame u r a prt of dis exploitation of a grl youngr dan ur own daughter?

— Rangoli Chandel (@Rangoli_A) September 10, 2017
Y wud u gift Kangana diamonds and clothes frm Bangkok n request her nt to go to cops if you knew ur husband is dating her as claimed by you?

— Rangoli Chandel (@Rangoli_A) September 10, 2017
…..and you sent regular fish biryani to her house and pleaded her not to go to cops.
Why Zarina ji pls answer ???

— Rangoli Chandel (@Rangoli_A) September 10, 2017
While the heat in this scandal does not seem to die down soon, Kangana's courage in talking against Bollywood biggies has been praised by many even as some industry insiders like singer Sona Mohapatra and director-choreographer Farah Khan condemned her act. The Queen actress is however not bogged down by any of this and was quoted in a news report saying, "Even if my journey ends here right now right, I have nothing to lose. I still have a huge success story in every which ways for the rest of my life," further adding, "I have a lot of faith in my abilities and I am not scared. I am not enamoured by this world and no one can pull my spirit down."
Photo Credits: Viral Bhayani