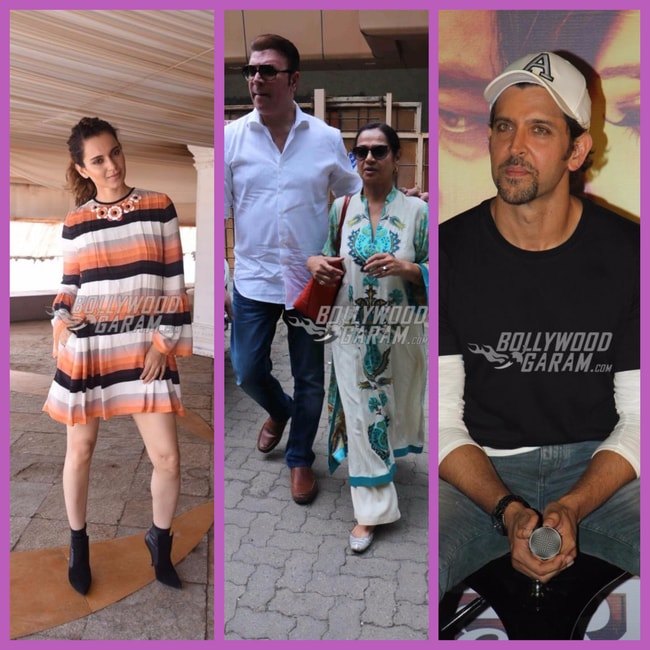 Nothing can be nastier than two people making jarring allegations agaoinst each other, especially concerning an alleged relationship and B'town celebs Kangana Ranaut, Hrithik and Aditya Pancholi have taken it upon them to get into the mudslinging and making the mess even murkier
The row between Hrithik Roshan and Kangana Ranaut is far from dying down as the controversy that has been on for years now has garnered much attention in recent times after Kangana went public on national television with intricate details of her alleged affair with her Kites and Krrish 3 co-star. Hrithik further retaliated in a detailed letter on his Facebook account explaining his side of the story only this month and later also gave two interviews on prime time television, saying that he never met Kangana in private and had a one-on-one conversation.
What Kangana said in the interview and how the curious case gained momentum
Kangana gave out details which involved her and Hrithik's alleged off-screen romance during and after Krrish 3, an intimate picture of the two stars that was leaked in April 2016 and that Hrithik wanted to marry her but he was still married to Susanne at that point and pursued Kangana to star in Krrish 3 with him. Hrithik's team, his friends and then ex-wife, Sussane had retaliated saying that the picture was photo-shopped and had actually been taken at a party in 2010.
The feud, however, began when Kangana referred to a "silly ex" in an earlier interview and Hrithik retorted in a tweet:
Ther r more chances of me having had an affair with d Pope dan any of d (Im sure wonderful)women d media hs ben naming.Thanks but no thanks.

— Hrithik Roshan (@iHrithik) January 28, 2016
He then sent Kangana a notice asking her to apologize in a press conference for defaming him. Kangana, however, slapped another legal notice which read, "She is not some dim-witted teenager who has been smitten and that whatever happened between the two of them was with full consent of both parties."
In between, there had reportedly been a slew of emails from Kangana's email ID where Hrithik alleged that he had got about 1439 emails (as per his notice) and he had tried to ignore them even though they "led to mental harassment and stress", further condemning the Queen actress for talking about their relationship in the industry and calling Hrithik a "silly ex." Hrithik also accused Kangana of having the Asperger's syndrome.
Kangana had bared all details of her alleged relationship in the interview saying Hrithik had hacked her email ID and deleted all the emails he himself sent.
Meanwhile, there were sources who spoke to Mumbai Mirror claiming that Hrithik had proposed to Kangana in Paris with a ring, to which Hrithik clarified in his Facebook statement only now that his passport details show that he was not in Europe at the time when the proposal in Paris is being claimed to have happened.
Kangana had also claimed in her interview with the news channel that she had called Hrithik on Valentine's Day in 2014 but when he denied on their relationship and marriage plans, she reportedly decided to break-up with Hrithik and move on with her life. However, she added in the interview that post Queen's success, Hrithik begged for forgiveness to which Kangana asked him to make up his mind.
Only one thing the two seem to agree on publicly: Their relationship was over by 2014.
However, Kangana alleged in the interview that the impostor that Hrithik and his father, Rakesh Roshan had claimed was involved in the emails between Hrithik and Kangana (allegedly to whom Kangana's initial emails were marked) was not proved to have existed and hence, the father-son duo should apologize to her for the mental and emotional trauma they put her through all this while.
Hrithik's final reply
Hrithik not only sent a lawsuit to Kangana after two years of the email incident, but also broke his silence on the issue after a lot of accusations, blame games, a series of interviews that gave Kangana's side of the story, with his Facebook post where he questioned that how was it possible to have a seven year relationship between two actors in today's day and age without a single proof of evidence.
In the post, he has also claimed that it is easy to believe the rhetoric that a woman can't lie and he is okay with it. He has come up with his side of the story now only to protect himself from what is proving to be "far more serious, sensitive and destructive" than just an allegation of an affair. This sentence from his post sums it all up:
"I have been harassed by this for four years and the well meaning and probably necessary social bias toward women has deemed me helpless in defending myself."
He further spoke about the entire issue where he firmly stands by what he wrote in the post on television news twice, saying that while he has cooperated with the cyber crime department of police about the email incident, the other party (Kangana) hasn't.
More trouble for Kangana
Kangana seems to be embroiled in several personal and professional battles. In the interview in September 2017, she gave a detailed account of her journey in Bollywood apparently marred by challenges like veteran actor, Aditya Pancholi obsessing over her, wife Zarina Wahab taking her husband's side and her spat with her latest film, Simran's writer, Apurva Asrani over the credits for screenplay, writing and dialogues, apart from all that she said about the alleged affair with Hrithik Roshan.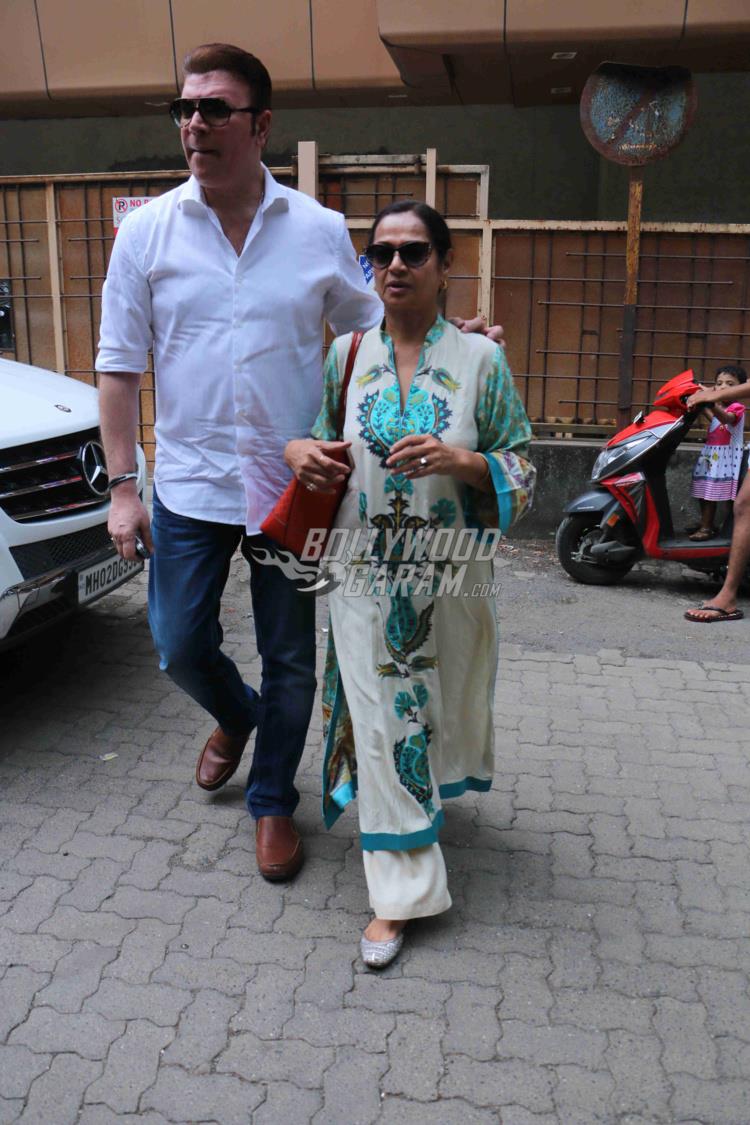 Aditya Pancholi and Zarina Wahab have since filed a case against her and also slapped legal notices against her and her sister Rangoli Chandel who has been tweeting in favour of her kin, to which he claimed to Bombay Times that he has not yet got a reply. Aditya said, "We asked them to apologize unconditionally on the same national platforms where Kangana made those derogatory remarks against me. Eventually, her sister and she dragged even my son, daughter and wife into all this. That's the reason Zarina and I decided to file a defamation case against her, which is both civil and criminal." However, he maintained that the defamation case has nothing to do with Hrithik Roshan.
***
It is now to be seen what will be Kangana's reply to the defamation case against her and also how she works on her career going forward, given that there are very few industry insiders who are in her favour now as Karan Johar, Sonam Kapoor, Shabana Azmi, Yami Gautam, Farhan Akhtar and now even Ronit Roy have all come in Hrithik's support. Bollywood's filthiest battle that ensued name calling, shocking allegations and many nasty verbal tussles is still on and even though Hrithik wrote against it, people are going to pick sides.
Photo Credits: Viral Bhayani