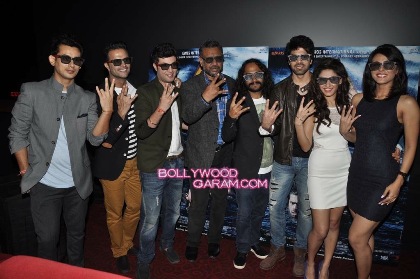 BollywoodGaram.com: Bollywood filmmaker Anubhav Sinha has released the first look and trailer video of his upcoming movie 'Warning' August 21, 2013. The latest film will be the first movie to be released by his own production house – Benaras Mediaworks.
The new movie will be the first 3D underwater movie in India and will be directed by the first-time director Gurmeet Singh. The story of the movie follows 7 young friends who ignore a warning and in turn, find themselves in a sea full of sharks and are unable to get back to their luxury yacht. The makers of the movie hope that 'Warning' will give the audience a novel experience.
The cast of the movie includes Varun Sharma, Susana Rodrigues, Manjari Phadnis, Sumit Suri, Jitin Gulati, Madhurima Tulli and Santosh Barmola.