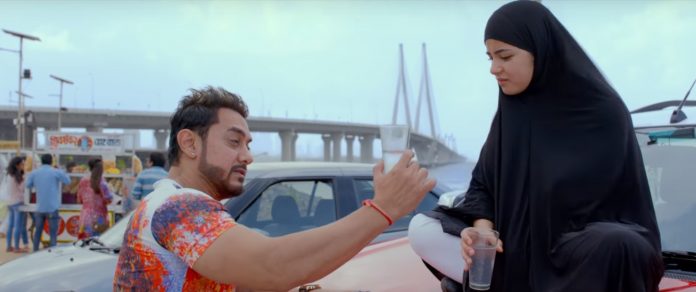 Movie Name: Secret Superstar
Cast: Zira Wasim, Aamir Khan
Director: Advait Chandan
Genre: Drama
Running Time: 155 minutes
Bollywood Garam Rating: 3.5/5
A story that effectively portrays a parent-child relationship and the age-old patriarchal mindset of the society that considers sons as assets and daughters as liabilities and burdens is that becomes the foundation for Secret Superstar, Aamir Khan's latest film after the resounding success of his last film, Dangal that broke all records in the domestic box office as well as worldwide. But in Secret Superstar, he lets Zaira Wasim (who also played the role of young Geeta Phogat in Dangal) as Insia leave a more powerful impression than himself as a cheesy, over-the-top and obnoxious music director, Shakti Kumarr.
The movie as its name says, is about a teenage girl who becomes a Superstar with her music and guitar-playing skills but her identity is a secret lest her strict and dominating father finds out about her aspiration of becoming a singer and stops her from pursuing her dreams. Insia' s mother played by Meher Vij is again a simple, conservative yet a strong woman as she sells her jewelry to buy a laptop for her daughter that Insia uses to become the star that she aspires so strongly to be.
Filmmaker Advait Chandan's debut with Secret Superstar even though has a heard-before story line and a predictable ending is worth a watch as it dolls out on emotional tonality of the movie and brings one close to tears when Insia struggles to realize her dream and is discovered by Shakti Kumarr. The sheer innocence of a teenager who is shy to address the boy in the class who has a crush on her yet having a strong will to become what she desires to be makes Insia stand out in the film even with Khan's powerful performance on a completely different character (that initially comes across as a caricature of predatorial and aggressive music directors) what he has portrayed so far on screen.
There is also the underlining theme of a loveless marriage between Insia's parents that the teenage girl tries to help her mother come out from. The mother-daughter relationship between Insia and her mother Nazma as the other equations in the movie between Insia and her little brother, Guddu and Insia and her admirer and classmate in her school, Chintan are so well traversed that it all seems real and relatable. This is certainly a movie gripping and adventurous enough for all teenagers, couples and children to understand the nuances and complexities of life, career and relationships. The idea of breaking free from societal shackles and challenging stereotypes, the chemistry between two opposite characters and how a simple girl deals with her oh-so-different mentor and discoverer, Shakti Kumarr and even for the support that a mother offers to her children, Secret Superstar is heartwarming in all these respects.
Photo Credits: YouTube and Instagram