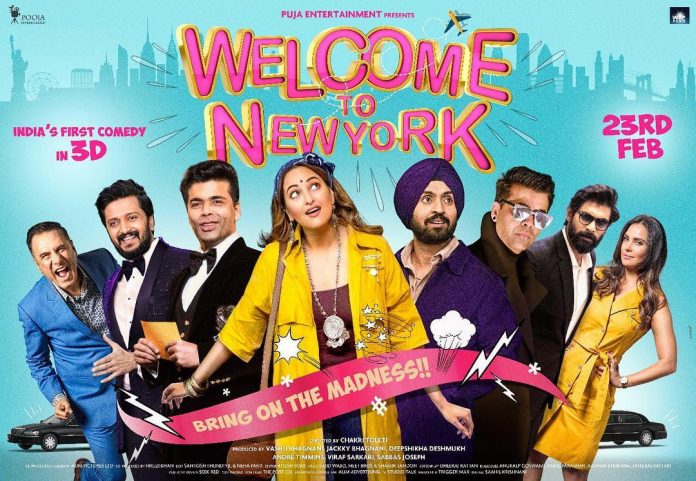 After releasing an interesting poster, the makers of Welcome to New York have unveiled the official trailer of the film on January 22, 2018. The trailer has shown a multi- star cast with some big names from the industry like Karan Johar, Boman Irani, Sonakshi Sinha, Riteish Deshmukh and Rana Daggubati.
It begins with the introduction of the lead characters Jeenal Patel played by Sonakshi Sinha and Hero played by Diljit Dosanjh. Diljit plays the role of a recovery agent while Sonakshi plays the role of a fashion designer. The two come across and land up to be a part of a big event expected to take place in New York.
Karan Johar will be seen playing a double role as Karan and Arjun and there is also Sushant Singh Rajput who seems like playing a cameo and will be confused as Mahendra Singh Dhoni. Welcome To New York also has Riteish Deshmukh, who will be seen taking a dig at Karan Johar and his films who could not score well at the box office. Karan Johar will be seen playing a full role as himself as a producer and filmmaker.
The film is directed by Chakri Toleti and is ready to be released in theatres on February 23, 2018.
Watch the official trailer here:
Photo Credits: Instagram