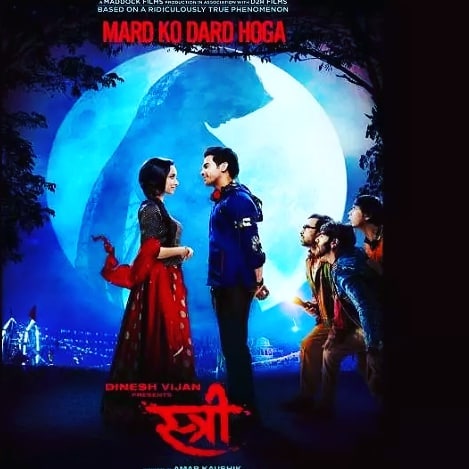 Movie Name: Stree
Cast: Rajkummar Rao, Shraddha Kapoor, Pankaj Tripathi and Aparshakti Khurrana
Director: Amar Kaushik
Genre: Horror comedy
Running Time: 130 minutes
Bollywood Garam Rating: 3/5 stars
Amar Kaushik has for the first time brought a unique feature which delivers shocks as well as laughs in equal portions. The best part is that the comedy and horror portions go hand in hand almost throughout the run time of a little more than two hours. The story is about the spirit of an angry woman who is known for stalking men during the festive period. During the festive period, the spirit calls out to men when they are alone and if the men turn around the spirit who is referred as Stree takes them away leaving their clothes behind.
While the men fear this Stree, there is one character Vicky played by Rajkummar Rao who is in love with Stree played by Shraddha Kapoor. The film in terms of its idea is surely a unique experience but it can become a little annoying when the makers poke fun at the horror film ideas and entertains the audience with its quips. Horror comedies are not regular in Bollywood but earlier Golmaal Again did wonders at the box office with the same genre.
In terms of performance Rajkummar Rao is terrific and has delivered every kind of emotion including fright, laughter and sadness with minimum effort. Shraddha Kapoor is at her regular self and shares a great chemistry with Rajkummar. The one who might take away all the attention would be Aparshakti Khurrana. He has tried his best to make himself visible in every possible way. Pankaj Tripathi is in his best form in the narrative.
Stree is the perfect example telling that horror can also be narrated in a fun way and it can also be entertaining. Do not expect something like Rohit Shetty did with Golmaal Again but watch it for fun with family and friends.
Photo Credits: Instagram