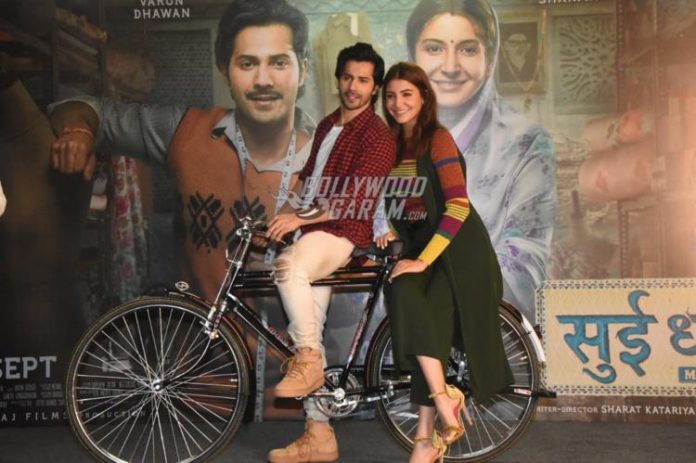 Movie Name: Sui Dhaaga – Made In India
Cast: Varun Dhawan, Anushka Sharma, Raghubir Yadav and Yamini Das
Director: Sharat Kataria
Genre: comedy-drama
Running time: 122 minutes
Bollywood Garam Rating: 4/5 stars
Sharat kataria has narrated a simple story about a simple couple with ambitious thoughts. Varun, who plays Mauji decided to quit the demanding job and decides to begin his own tailoring business. However, this comes with a lot of struggles, nagging relatives, lack of support and off unfavourable circumstances.
Mauji is a happy go lucky man, who says 'Sab Badhiya Hai' (everything is fine) even when he is dealing with everyday struggles. He not just deals with his angry and taunting father but also has an ailing mother and a marriage, which does not have any romance. Wife Mamta, played by Anushka does not have any time because of house hold chores. Sui Dhaaga is filled with those little struggles in the life of a simple couple from a small town.
Varun, has surely grown as an actor and has tried this best not to over-do it with the character of Mauji. Anushka, has a subtle character and is seen clad in a simple sari, sindoor and minimal make-up. The actress has well-adopted the language and behavior of a normal house wife living in a small town. Radhubir Yadav comes out as a cynical father who does not leave any opportunity to taunt his son and his one –liners will leave you in splits. Surprisingly the one who has stood out in the entire film is Varun's mother Yamini Dass, who has managed to justify every moment of her screen time. The way she orders for the everyday chores to her daughter-in-law from the hospital bed, she does it all with perfection.
In the first half, the filmmaker has taken his time to establish the characters and their problems. A good use of humour can be seen in dialogues. The narrative is not that predictable and the second half can be called as just convenient. Sui Dhaaga – Made In India is overall a package of some strong performances and a good storyline.
Photo Credits: Viral Bhayani