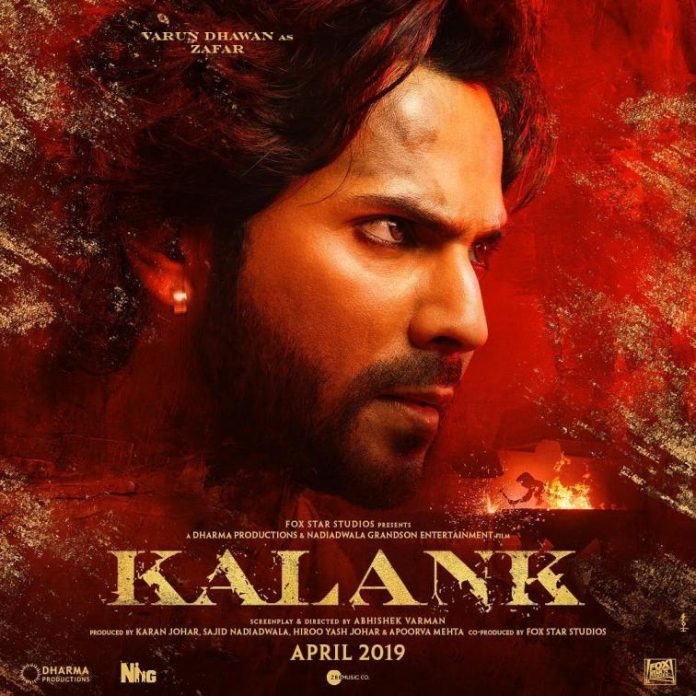 Dharma productions has shared the first look of the upcoming period drama Kalank. Producer Karan Johar had earlier teased a big reveal on March 7, 2019. The new poster has been shared by Varun Dhawan, Alia Bhatt and Sonakshi Sinha. The first poster has shown Varun in his character Zafar.
Varun shared the poster and wrote, "It's been a hell of a journey playing this gem of a character. So guys, meet Zafar". The same poster has been shared by Alia Bhatt who wrote, "Fearless in love. Fearless for love. Super happy to present Zafar!" Sonakshi too shared the post and wrote, "The flamboyant hero of our larger-than-life world. Presenting Zafar!"
Karan in a detailed post on the social media talked about the film and shared that it the idea of the film was born in his heart and mind about 15 years back and was the last film that his father had worked on before he passed away. The filmmaker also shared that it was his father's dream to see this film come through but Karan could not continue then as he his spirit was broken. Karan is now all set to complete his father's dream with Kalank.
The film also stars Madhuri Dixit, Sanjay Dutt, Aditya Roy Kapur and others. Madhuri was signed for Kalank after Sridevi passed away, who was originally supposed to star opposite Sanjay Dutt. The film is a period drama set in 1940s and is being directed Abhishek Verman who was earlier helmed the film 2 States. The film was earlier expected to be produced by late Yash Johar, but the film was shelved after pre-productions. The cost estimate of the sets is reportedly Rs. 15 crores. The film has a mega cast and has a budget of Rs. 120 crores. Kalank is scheduled to be released in April, 2019 and is expected to be one of the biggest films of the year.
Photo Credits: Instagram