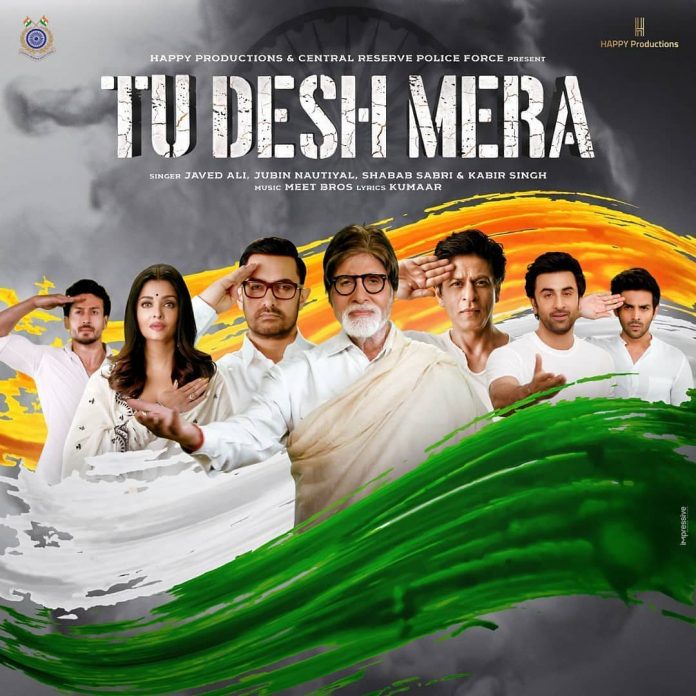 The infamous Pulwama attack had shaken the entire nation. Now the entire Bollywood has come together and paid tribute to the martyrs of the CRPF jawans who lost their lives in the attack. The official teaser of Tu Desh Mera song has been unveiled. The song has paid a heartful tribute to the soldiers, who lost their lives. The teaser has shown stars like Amitabh Bachchan, Shah Rukh Khan, Aamir Khan, Aishwarya Rai Bachchan, Kartik Aaryan, Tiger Shroff and Ranbir Kapoor pay tribute to the martyrs. All the actors in the teaser can be seen in white outfits.
The Pulwama attack happened in February 2019, when a suicide bomber triggered himself to a convoy of CRPF jawans and were killed in Awantipora are located in Pulwama Kashmir. The song poster was released a say before Independence Day.
The song has been composed by Meet Bros while Kumar has written the lyrics. The song has managed to invoke the feeling of patriotism and will surely fill the hearts of the listeners with respect for the ones who fought for the country and sacrificed their lives.
The teaser has left a strong impact on the listeners and viewers. The full version of the song Tu Desh Mera is expected to be released soon.
Watch the teaser here:
Photo Credits: Instagram