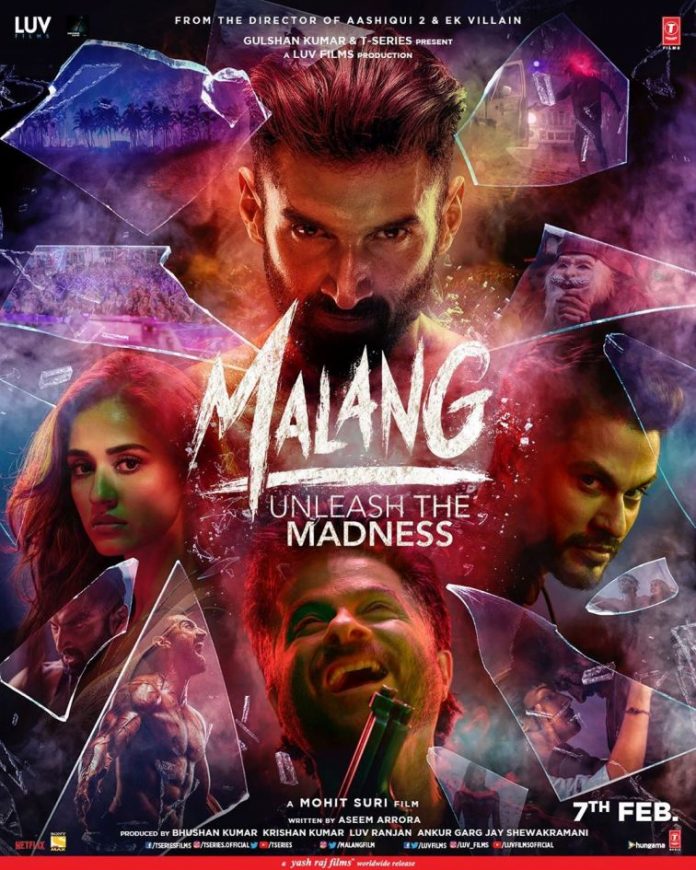 Movie Name: Malang
Cast: Aditya Roy Kapur, Disha Patani, Anil Kapoor and Kunal Kemmu
Director: Mohit Suri
Genre: Romantic action thriller
Running Time: 135 minutes
Bollywood Garam Rating: 3 and a half/5 stars
Malang is like a trademark by Mohit Suri who seems to love his art of filmmaking and leaves his mark in whatever he does. Here the official trailer of the film has revealed most of the story including the suspense, which makes the story quite predictable. This makes it just a thriller and not actually a suspense. The story is about Advait Thakur played by Aditya Roy Kapur, who is an introvert and meets Sara Nambiar played by Disha Patani during his visit to Goa. Sara is a free spirited girlwho loves to live life on her own terms and sparks fly between Aditya and Sara.
Things go smooth until their life goes upside down. Malang begins on a slow note then slowly picks up building the story around the lead pair Disha and Aditya. The second half is when it begins to hold the attention of the audience. Suri is known for this quality of making things spicy and interesting enough to keep his audience intact. Aditya Kapur is the eye candy in the flick but it is the supporting cast Anil Kapoor and Kunal Kemmu, who are noteworthy and the heartbeat of Malang.
Aditya has managed to look effortless and his chemistry with Disha makes things sparkling. But the makers have made the best use of Disha's toned body, by flaunting it everywhere possible. The performances by the actors especially Anil Kapoor is top class. The only drawback here is the repetition of the theme as Mohit has earlier displayed such a feel with his films and there is nothing new in the narration.
Factors that have saved the film include Aditya's chiseled body, Disha Patani's toned body, glamorous songs and a great supporting cast. Overall, it is surely a good entertainer and a must watch.
Photo Credits: T-Series, Luv Films and Northern Lights Entertainment