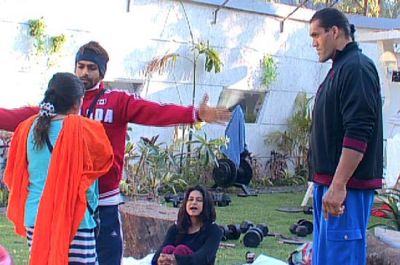 The house of Bigg Boss 4 was in a very confused state, as the inmates of the house were asked to switch characters in the house. As a part of a task, the inmates were asked to rehearse and enact all the major fights in the house that had happened over the past few weeks on the Indian reality show.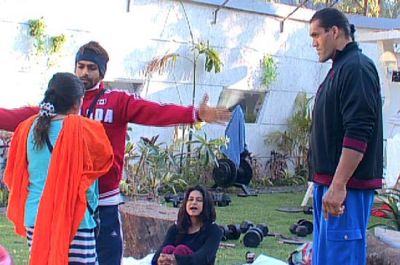 Bollywood actor Ashmit Patel played Dolly Bindra's character, ShwetaTiwari played Ashmit Patel, and the Great Khali played Manoj Tiwari, while Dolly played the role of Veena Malik. The entire act was very hilarious as the characters were switched and were trying to over do the characters.
All the fun ended, when Bigg Boss called all the inmates in the living room and showed the clippings of what each member had said about other inmates in the house. Though no one was affected by the clippings, the person who was offended was Dolly Bindra.
Dolly, after watching all the clips, had forced Khali to sit down and discuss what was shown by Bigg Boss.