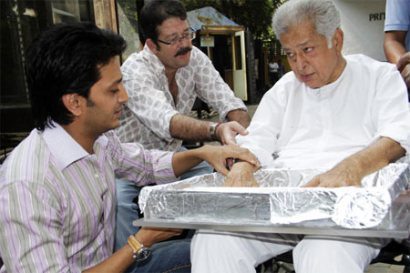 BollywoodGaram.com: Veteran actor Shashi Kapoor's hand impression tile will soon be revealed by his son Kunal Kapoor for 'Walk of the Stars'. The hand print tile of the famous Bollywood star is scheduled to be unveiled on November 9, 2013 at Prithvi Theatre for UTV Stars 'Walk of the Stars'.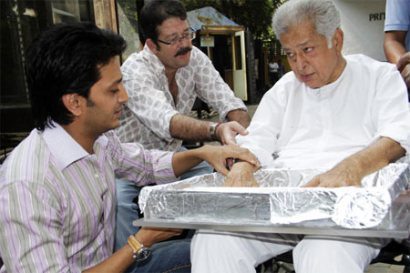 Later, the tile will be installed at the Walk of the Stars promenade at Bandstand, Bandra in Mumbai. Kapoor made his mark in the film industry and has delivered some of the blockbuster hits like 'Namak Halal', 'Kabhie Kabhi', 'Kala Patthar' and many others. The legendary actor is being honored for his contribution to the film industry of India.
Kunal said, "We are extremely humbled and touched with this gesture. This hand print will symbolize his contribution to the Indian film industry. And it's an honour for me to be able to launch my father's tile in his presence." The son of the veteran went on to say that his father was one of the most popular stars of his time and will be always remembered that way.
The promenade also has other members of the Kapoor family, including Prithviraj Kapoor, Rishi Kapoor, Raj Kapoor, Neetu Kapoor and even Kareena Kapoor. There are also brass statues of Raj Kapoor and Shammi Kapoor. The Kapoor family was known for working the most in the film industry.