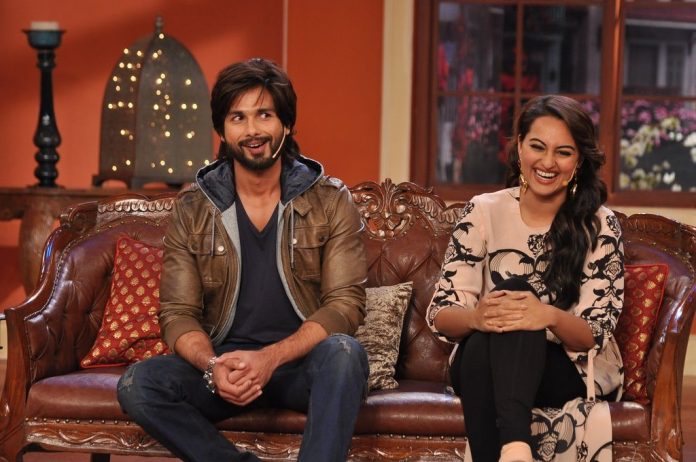 BollywoodGaram.com: While people were busy linking celebrities during the past couple of months, the majority of them failed to notice that cupid struck Bollywood stars Shahid Kapoor and Sonakshi Sinha, who were known to be single until now. The latest rumors are circulating that the 'Dabangg' actress and Shahid have fallen in love with each other as they have spent quite a lot of time together lately.
People from the production unit informed that Shahid and Sonakshi had a blast while they were shooting for the movie 'R…Rajkumar' together and it seems that they are more than co-stars now. Shahid refers to Sonakshi as his lucky charm and has reportedly gifted her a wonderful red sari while they were in Ahmedabad.
Sonakshi even wore the sari in question during a promotional event for their movie. In the past, Shahid had plenty of link-ups and breakups, but not much has been heard about Sonakshi until now. There were reports that Sinha was interested in the ladies' man Ranveer Singh, who is smitten with Deepika Padukone these days.
Friends of the two actors also revealed that Shahid and Sonakshi were spotted partying together. For now, the new couple are refraining from speaking about the relationship in public, but close friends of the couple are confirming that they know about the romance between them.