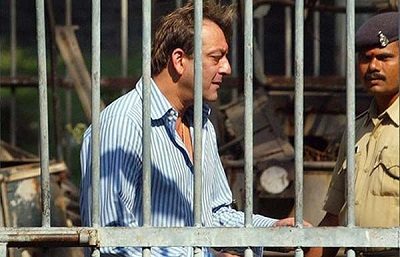 BollywoodGaram: Former Bollywood actress Maanyata Dutt might be recovering from treatment, but her husband Sanjay Dutt has managed to get another extension of his parole for a month. The 'Munna Bhai' actor received a parole in December 2013, which was extended until February 19, 2014, after which he wanted another extension of 30 days.
Sanjay applied for a parole on the basis of health reasons, as his wife Maanyata needed care and attention when she was diagnosed with tumor in the liver. The actor came out of the Yerwada Jail in Pune on December 21, 2013 on a 30-day parole, which was granted on the grounds of wife Maanyata's illness.
Meanwhile, the media reported that the actor was granted a parole on the basis of wife's fragile health, but the former actress was seen at an event on December 5, 2013. Media reports said that Maanyata attended the screening of the Shahid Kapoor-starrer movie 'R…Rajkumar' on December 5, 2013. The application of Dutt was sanctioned on December 6, 2013 by the Divisional Commissioner of Pune.
The 'Vaastav' actor was previously released on October 1, 2013 on medical grounds and he was later granted with an extension of two more weeks. Dutt was sentenced for illegal arms possession during the Mumbai bombings which killed 257 people in 1993.